Vikings 2017 season schedule released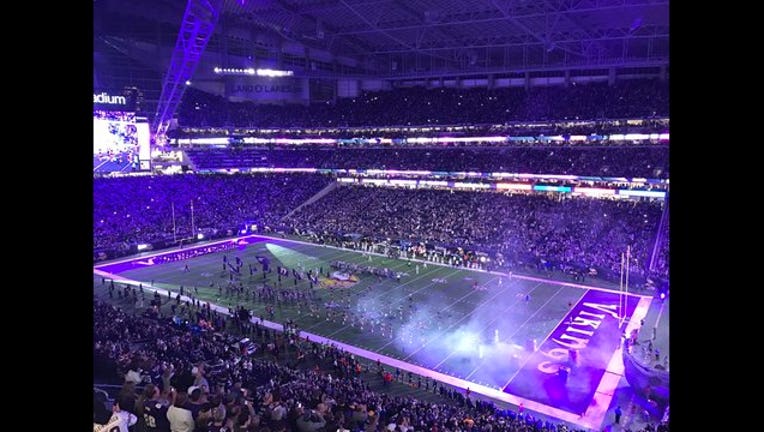 article
EDEN PRAIRIE, Minn. (KMSP) - Hungry football fans, get ready to mark your calendars. The Minnesota Vikings just released the full preseason and regular season schedules for 2017.
The Minnesota Vikings will be opening the 2017 season with a Monday night football game against the New Orleans Saints at U.S. Bank Stadium
Other big highlights include a road Monday night game against the Chicago Bears in Week 5, a journey across the pond for a London game against the Cleveland Browns in Week 8, and a Thursday night game in Week 12 on the road against the Detroit Lions. The Vikings bye week falls on Week 9.
Check out the full schedule below:
Vikings home games are marked in bold.
Preseason
P1 Thursday, Aug. 10 at Buffalo Bills 6:00 p.m. Fox 9, KFAN / KTLK
P2 Friday, Aug. 18 at Seattle Seahawks 9:00 pm Fox 9, KFAN / KTLK
P3 Sunday, Aug. 27 San Francisco 49ers 7:00 pm NBC, KFAN / KTLK
P4 Thursday, Aug. 31 Miami Dolphins 7:00 pm Fox 9, KFAN / KTLK
Regular season
1 Monday, Sept. 11 New Orleans Saints 6:10 p.m. ESPN, KFAN / KTLK
2 Sunday, Sept. 17 at Pittsburgh Steelers noon Fox, KFAN / KTLK
3 Sunday, Sept. 24 Tampa Bay Buccaneers noon Fox, KFAN / KTLK
4  Sunday, Oct. 1 Detroit Lions noon Fox, KFAN / KTLK
5 Monday, Oct. 9 at Chicago Bears 7:30 p.m. ESPN, KFAN / KTLK
6 Sunday, Oct. 15 Green Bay Packers noon*, Fox, KFAN / KTLK
7 Sunday, Oct. 22 Baltimore Ravens noon* CBS, KFAN / KTLK
8 Sunday, Oct. 29 at Cleveland Browns (London) 8:30 a.m. NFLN, KFAN / KTLK
9 Sunday, Nov. 5 BYE WEEK
10 Sunday, Nov. 12 at Washington Redskins noon* FOX, KFAN / KTLK
11 Sunday, Nov. 19 Los Angeles Rams noon* Fox KFAN / KTLK
12 Thursday, Nov. 23 at Detroit Lions 11:30 a.m. Fox, KFAN / KTLK
13 Sunday, Dec. 3 at Atlanta Falcons noon* Fox KFAN / KTLK
14 Sunday, Dec. 10 at Carolina Panthers noon* CBS, KFAN / KTLK
15 Sunday, Dec. 17 Cincinnati Bengals noon* CBS, KFAN / KTLK
16 Saturday, Dec. 23 at Green Bay Packers 7:30 p.m. NBC, KFAN / KTLK
17 Sunday, Dec. 31 Chicago Bears noon* Fox, KFAN / KTLK
*time subject to change due to flexible scheduling