Biden administration resuming deportation flights for Venezuelan migrants, AP sources say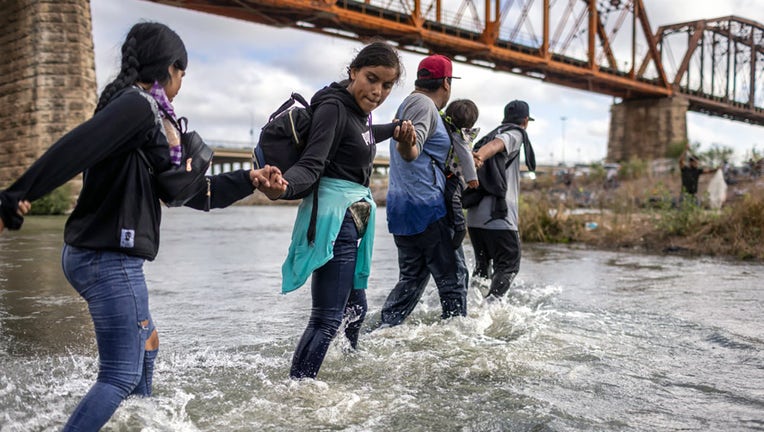 article
WASHINGTON - The Biden administration is going to resume deporting migrants to Venezuela, two U.S. officials told The Associated Press on Thursday.
The process is expected to begin shortly, said two U.S. officials, though they did not provide specific details on when the flights would begin taking off. The officials were not authorized to disclose details of the government's plan and spoke to the AP on condition of anonymity.
The resumption of deportation comes not long after the administration increased protected status for Venezuelans who arrive to the U.S., so if someone arrived to the U.S. before July 31 of this year, but not after, they'd be eligible for protections. The decision reflects the larger strategy by President Joe Biden to not only provide expanded legal pathways for people arriving, but also to crack down on those who illegally cross into the country from Mexico.
It's the latest effort to deal with swelling numbers of migrants as the administration comes under increasing pressure from Republicans and mayors from the president's own party to do more to slow arrivals. U.S. officials were in Mexico Thursday to discuss the issue.
U.S. Secretary of State Antony Blinken met with his Mexican counterpart Alicia Bárcena, as well as foreign ministers from Panama and Colombia, Wednesday. Talks were scheduled to continue Thursday, including a meeting between U.S. Attorney General Merrick Garland and López Obrador.
López Obrador said Thursday during his daily news briefing that Mexico has reiterated in talks its position that there should be investment to spur development in the countries that migrants leave.
"The people don't abandon their towns because they want to, but rather out of necessity," the president said. He also criticized the Biden administration's announcement Wednesday that it waived 26 federal laws in South Texas to allow border wall construction. López Obrador had previously praised Biden for not building more border wall during his presidency.
RELATED: 10,000 migrants a day head to US border, Mexico's president says
New York City Mayor Eric Adams, who is also dealing with a large influx of migrants, was traveling through Latin America to learn more about the paths migrants take to the U.S. and to spread a message about the realities of arriving in his city.
He was scheduled to meet with a nun running a migrant shelter in Mexico City Thursday morning before heading to the city of Puebla, source of many of the Mexican migrants who arrive in New York, to meet with migrants and community leaders there.
In a press conference late Wednesday night in Mexico City, Adams said he hoped to "manage expectations" of migrants setting out on their journeys, and to inform migrants that his city was "at capacity" after receiving around 120,000 migrants over the past year.
He echoed a rising number of voices in calling for a larger global response to the increasing number of migrants to the U.S.
"It's not sustainable," Adams said at the base of a basilica where people often pray before setting out on their journeys. "The message of this not being sustainable cannot stay within the boundaries of New York City. … There is a global migration and it must have an international response."
Blinken and other top American officials are visiting Mexico to discuss shared security issues, foremost among them trafficking of the synthetic opioid fentanyl, but also arms trafficking and increasing migration.
In August, the U.S. Border Patrol made 181,509 arrests at the Mexican border, up 37% from July but little changed from August 2022 and well below the more than 220,000 in December, according to figures released in September.
The U.S. has tried to get Mexico and countries farther south to do more. In April, the U.S., Panama and Colombia announced a campaign to slow migration through the treacherous Darien Gap dividing Colombia and Panama. But migration through the jungle has only accelerated and is expected to approach some 500,000 people this year - many from Venezuela.
More Venezuelans were encountered at the U.S.-Mexico border last month than nationals of any other country except Mexico, according to U.S. Customs and Border Protection figures released by López Obrador.
Venezuelans were stopped 25,777 times the first 17 days of September, up 63% from the same period a month earlier. Those included some people admitted for scheduled asylum appointments, but the vast majority were illegal entries.
Venezuela plunged into a political, economic and humanitarian crisis over the last decade, pushing at least 7.3 million people to migrate and making food and other necessities unaffordable for those who remain.
The vast majority who fled settled in neighboring countries in Latin America, but many began coming to the United States in the last three years.
Deportation flights had been paused in part because the U.S. has few diplomatic relations with the nation. U.S. officials would not say how Venezuela agreed to accept back their citizens except to say that, like other countries around the world, the U.S. has long encouraged Venezuela to take back its nationals.
The U.S. announcement resuming deportation flights "makes clear that we are committed to strictly enforcing immigration laws and quickly removing individuals who do not avail themselves of these orderly processes and choose to cross our border unlawfully," Homeland Security said in a statement.
RELATED: Biden administration waives 26 federal laws to allow border wall construction in South Texas
__
Janetsky contributed from Mexico City. Associated writers Rebecca Santana in Washington and Fabiola Sánchez in Mexico City contributed to this report.