Tyus Jones officially entering 2015 NBA Draft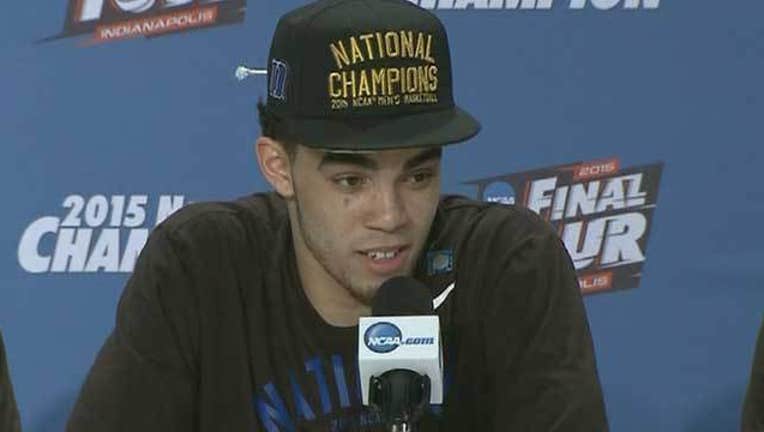 article
Apple Valley, Minn. native and Duke freshman star Tyus Jones will officially be entering the 2015 NBA Draft, his head coach Mike Kryzysewski announced Wednesday.
Jones helped guide the Blue Devils to their fifth NCAA national championship title by averaging 13 points per game over the six games played in this year's tournament.
He scored a game-high 23 points in the national championship game against Wisconsin, and earned the honor of 2015 Final Four Most Outstanding Player.
"Tyus could not have done a better job for us this past year," Krzyzewski said. "We're so very happy for him and his family to have the opportunity to declare for the draft. He is projected to be a first-round pick."
Duke has produced a first round selection in the NBA Draft in each of the past four years. Krzyzewski has mentored 28 first round picks, including 18 lottery selections.
"Coming to Duke was a dream of mine and being a part of such a special team was amazing," Jones said. "I knew coming in I would be a part of a great team, but I never envisioned I would be a part of such an incredible family. That is what has made winning a national championship such an amazing experience."
Jones said he's been faced with the tough decision of returning to a place he loves or pursuing his next dream.
"With the support and guidance of my family, my coaches, my teammates, and Duke University, I have decided to start my professional career," he said. "Even though I am entering the NBA Draft, I will forever be a Duke Blue Devil."
The 2015 NBA Draft will take place Thursday, June 25 in New York City.