Deputies responding to Tyre Nichols stop didn't keep body cams on, records show
MEMPHIS, Tenn. - Two sheriff's deputies who have been suspended for five days for their role in the arrest of Tyre Nichols failed to keep their body cameras activated after they went to the location where Nichols had been beaten by five Memphis police officers, officials said late Wednesday.
Shelby County Sheriff's Office deputies Jeremy Watkins and Johntavious Bowers each violated multiple policies after they reported to the location of Nichols' violent arrest on Jan. 7, Sheriff Floyd Bonner said in a statement.
Nichols had fled a traffic stop but was caught near his home by Memphis Police Department officers who punched him, kicked him and hit him with a baton, police video footage and other documents showed.
READ MORE: Officer drew gun as he approached Tyre Nichols, report finds
Video released by the city showed several law enforcement officers standing around as Nichols struggled with serious injuries while he sat on the ground, propped up against a police car. Nichols was taken to a hospital in an ambulance that left the location of the beating 27 minutes after emergency medical technicians arrived, authorities have said.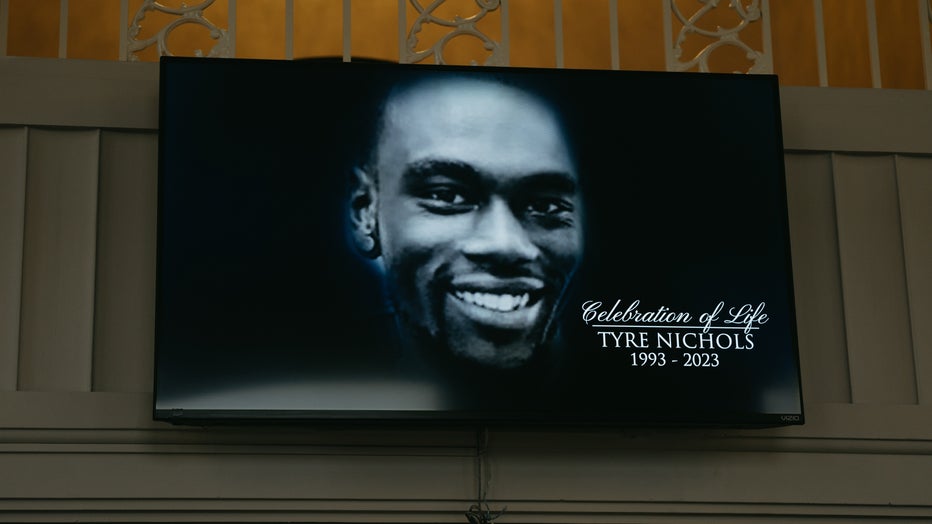 A screen at the entrance of Mississippi Boulevard Christian Church displays the celebration of life for Tyre Nichols on February 1, 2023 in Memphis, Tennessee. (Photo by Lucy Garrett/Getty Images)
Nichols died at a hospital on Jan. 10. Five Memphis officers accused of beating Nichols have been fired and charged with second-degree murder. One other Memphis officer has been fired but not charged criminally for his role in the traffic stop that preceded the beating.
READ MORE: Tyre Nichols documents: Officer never explained stop to him
The sheriff's office previously had said two deputies who went to the scene after Nichols was beaten had been disciplined and were under investigation. But the county law enforcement office had not divulged further details, including their names and the actions they took — or did not take.
READ MORE: Tony Hawk to donate autographed photo proceeds to Tyre Nichols fund
Reports released by the sheriff's office late Wednesday showed Bowers and Watkins were suspended for five days without pay for failing to keep their body cameras and in-car video turned on while they were at the arrest location.
The deputies also did not notify dispatch or their supervisor, the reports showed. Watkins also did not report on his daily log that he went to the arrest location, according to the reports.
Bonner said the sheriff's office does not believe that the deputies will face criminal charges.
Bowers and Watkins have been Shelby County deputies since June 2021, Bonner said. Both suspensions began Wednesday.