Twin Cities could see 2-3 inches before Tuesday night commute, more Wednesday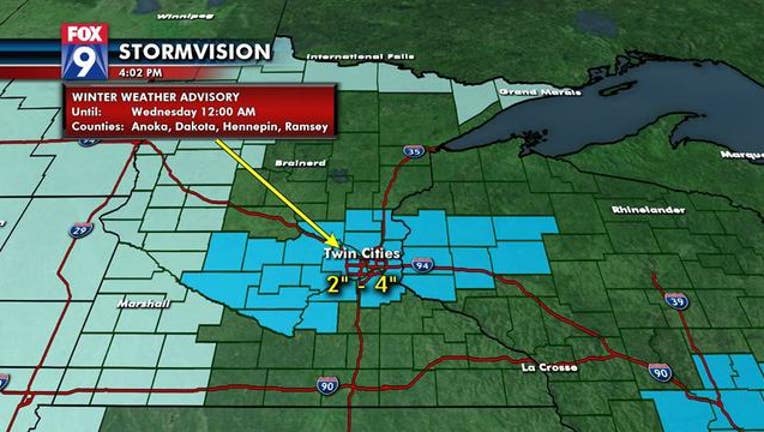 EDEN PRAIRIE, Minn. (FOX 9) - A Winter Weather Advisory continues for the Twin Cities metro until 9 p.m. Tuesday evening.
Snow showers will pulse across the area (mainly central and southern Minnesota and into Wisconsin) through Tuesday afternoon and into the evening before tapering off in the early Wednesday morning. 
Expect traffic slowdowns for most of Tuesday as the Twin Cities should see between 2-3 inches by the evening commute with an additional half inch or so before flakes wind down to flurries by 8 or 9 p.m.
While most of southern Minnesota will be comfortably placed in the 2-4 inches range, there will be a narrow, heavier band that develops in southeastern Minnesota into central Wisconsin (perhaps in the Owatonna to Eau Claire area) that could see higher totals.
Temperatures will stay chilly as highs slowly climb only to the teens Tuesday afternoon, then stay there through the night.
After a break in precipitation late Tuesday and the first half of Wednesday, more accumulating snow is in the forecast for late Wednesday through the day on Thursday.