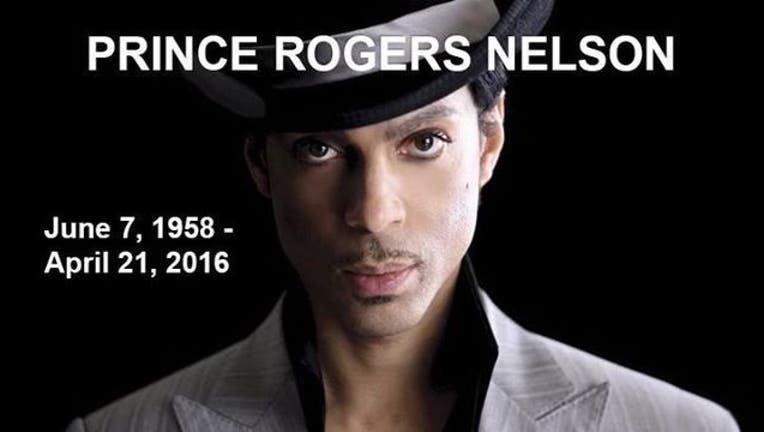 article
CHANHASSEN, Minn. (KMSP) - One year ago, on April 21, 2016, Prince Rogers Nelson was found dead at his Paisley Park estate in Chanhassen, Minnesota. He was 57 years old.
Around 9:30 a.m. that morning, staff discovered Prince lying unresponsive in an elevator and called 911. First responders attempted CPR, but efforts to revive him were unsuccessful. The Midwest Medical Examiner later determined he died of an accidental self-administered fentanyl overdose.
Fans start to show up at Paisley Park
Immediately following the news of his passing, Prince fans from all over the world began to gather at Paisley Park to mourn his death.
The fence surrounding the property quickly filled with purple flowers, balloons and artwork left by fans. Crowds continued to flock to Paisley for days afterwards to pay tribute to the late artist. 
First Avenue all-night dance party
First Avenue was another popular gathering point for grieving fans looking to pay tribute to The Purple One. Prince got his start playing at the iconic music club in downtown Minneapolis and it appeared in his 1984 film "Purple Rain." Memorials were left next to Prince's star on the wall outside the club.
That night, 89.3 The Current organized a Prince Memorial Street Party on 7th Street with performances by Lizzo, Chastity Brown, P.O.S., Sarah White, Tiny Deaths, Pavielle and DJ Shannon Blowtorch. The party continued inside First Avenue with a dance party that went until 7 a.m. the next morning. Two more all-night dance parties were held the following nights. 
The dance parties were a nod to the spontaneous all-night parties Prince was known to host at Paisley Park. 
Twin Cities go purple for Prince
Other tributes popped up all across the Twin Cities in the wake of Prince's death.
Gov. Mark Dayton ordered the 35W Bridge to be lit in purple throughout the weekend. Other local landmarks also went purple for Prince, including the Lowry Avenue Bridge and Bandana Square in St. Paul. For a while, the Minneapolis City Hall tower bells rang out with some of Prince's greatest hits.
On the Saturday after his death, Target Field hosted a special showing of "Purple Rain" on their big screen.
Minnesota sports team also honored the music legend at games the weekend. The Wild put on a dazzling tribute of purple lights and lasers followed by a moment of silence ahead of their of their Stanley Cup playoff game on Sunday, April 24. The Twins sported purple armbands for the Purple One at their away game in Washington, D.C.
One year anniversary 
To mark the one-year anniversary of Prince's passing, Gov. Mark Dayton has declared Friday, April 21, 2017 "Prince Day" in Minnesota. And, for the second year in a row, the place the Prince called home will go purple, with the 35W Bridge, IDS Tower, Lowry Avenue Bridge and more lit up. 
Paisley Park, which has since become a museum, and First Avenue are also hosting events to honor Prince's legacy. 
Full list of Prince-related events: How to celebrate the life of Prince this week