Teal pumpkins on Halloween: Help trick-or-treaters with food allergies celebrate
Trick or treat! Children and their parents may come across a unique decoration sitting on their neighbors' doorstep, lawn or window this Halloween: teal pumpkins.
Although teal may be a nice pop of color for the holiday, it's not just a whimsical decorating choice. There's a meaning behind that colorful squash. 
And, you can partake too!
Teal pumpkins stand for food allergy awareness
One in 13 children in the United States has a food allergy, according to foodallergy.org, and this can limit them from partaking in fun celebrations, such as Halloween.
Many popular Halloween candies contain nuts, milk, egg, soy or wheat, which are some of the most common allergens in children and adults. Additionally, many miniature or fun-size versions of candy items contain different ingredients than their full-size counterparts, so it is difficult for parents to determine whether these items are safe for their child with food allergies.
To make the holiday sweeter for little ones who can't have candy, The Teal Pumpkin Project offers an alternative to those who are handing out treats this year.
The teal pumpkins indicate to a trick-or-treater that the house has non-food treats available. This can include little toys, glow sticks, stickers, plastic fangs – anything that everyone can enjoy. Yes, it's still Halloween without candy corn.
So, if a teal pumpkin shows up on someone's doorstep, it means they have treats other than food, so a child can feel included this spooky season.
How did teal pumpkins start?
The Teal Pumpkin Project was inspired by a local awareness activity run by the Food Allergy Community of East Tennessee (FACET). 
The team behind the project, Food Allergy Research & Education (FARE), said Halloween can be a tricky time for families managing food allergies, and many traditional Halloween treats aren't safe for children with life-threatening food allergies.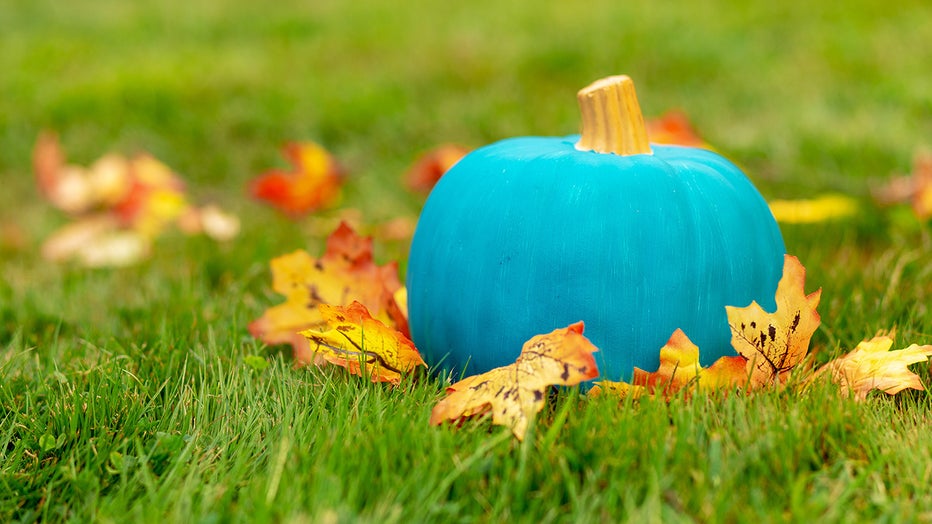 File: Teal pumpkin (Credit: EvgeniiAnd / iStock / Getty Images Plus)
"The Teal Pumpkin Project promotes safety, inclusion and respect of individuals managing food allergies," the organization said on its website. "This worldwide movement offers an alternative for kids with food allergies, as well as other children for whom candy is not an option. It keeps Halloween a fun, positive experience for all!" 
How to participate 
Those interested in participating in the Teal Pumpkin Project can easily do the following: 
Provide non-food treats for trick-or-treaters. 
Place a teal pumpkin in front of your home to indicate to a passerby that you have non-food treats available. If you don't have time to paint a pumpkin teal, you can print out a free sign from FARE's website to post on your door. You can also look for teal pumpkins to purchase online and at local retail shops 
Spread the word! Share the Teal Pumpkin Project with your friends and family.
According to FARE, you can also give out candy to other trick-or-treaters, as long as it's done safely. 
"If you do decide to give out candy in addition to giving out non-food treats for those who may have food allergies, you may want to keep the items separated in different bowls or containers," FARE wrote.
For more information about food allergies, visit FARE's website.
Find homes with teal pumpkins
If your child has a food allergy, you can also find homes with teal pumpkins using the project's map.
Easily, type in your home address and locate teal pumpkin houses near you.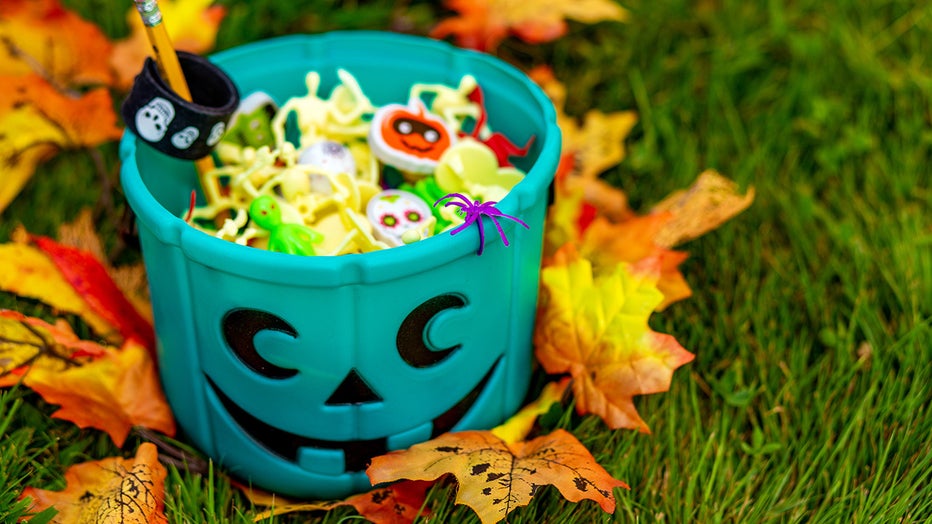 File: Teal pumpkin basket with toys inside. (Credit: Credit: EvgeniiAnd / iStock / Getty Images Plus)
If you're interested in participating, you can also make your home easy to find for those on the hunt for non-food treats.
"The more homes added to the map, the more inclusive (and therefore more fun) we can make Halloween!," FARE wrote. 
This story was reported from Los Angeles.