Super Bowl frenzy back in full force this year
GLENDALE, Ariz. - From Super Bowl opening night to the night before the big game, the party was on all week long.
The frenzy was back in full force this year after COVID-19 restrictions limited the wild, zany atmosphere that surrounds the most-anticipated and most-hyped week on the sports calendar.
More than 6,000 media members from 24 countries were accredited to provide coverage of the Kansas City Chiefs vs. the Philadelphia Eagles and related events onsite in Arizona, per the NFL.
READ MORE: Super Bowl 2023 guide: What to know, who to watch in this year's big game
Officials estimated 100,000 visitors were passing through the area surrounding the downtown convention center where the NFL set up its Super Bowl Experience, an interactive theme park.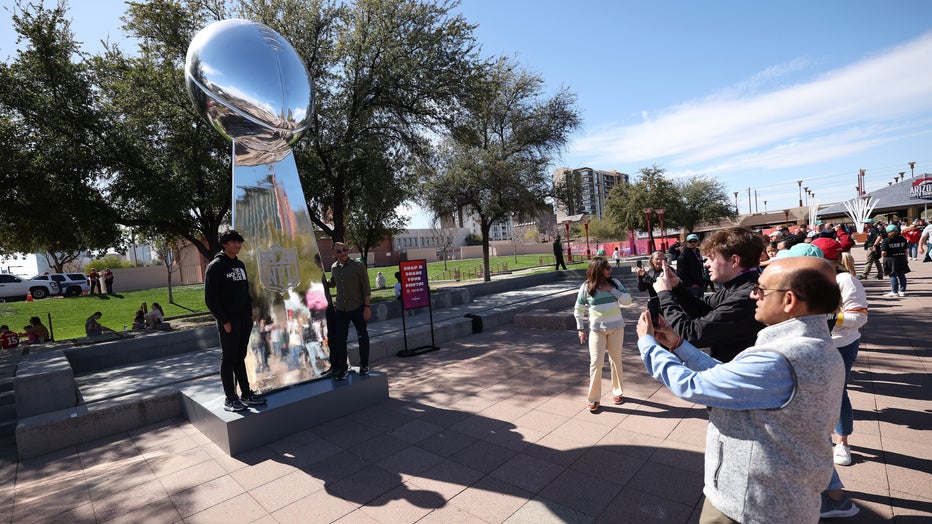 Fans take pictures with a oversized Vince Lombardi Trophy at the NFL Experience prior to Super Bowl LVIIon February 11, 2023 in Phoenix, Arizona. (Photo by Gregory Shamus/Getty Images)
That doesn't count the hundreds of thousands of people who came out for the WM Phoenix Open in Scottsdale, 20 miles from downtown Phoenix. About 600,000 attended the tournament this week, including some 200,000 fans on Saturday with many wearing Chiefs and Eagles gear. It's expected to wrap up in time for people to watch or go to the big game.
The Super Bowl media center was buzzing with a record 128 outlets filling radio row, which now includes podcasts and television networks.
READ MORE: Celeb sightings: Which stars visited Phoenix for the Super Bowl, WM Phoenix Open
Restaurants were packed, parties were crowded, hotels were booked, traffic blocked streets and people were everywhere just as in the pre-pandemic days.
Red-clad Chiefs fans flooded the streets, doing the Chiefs' tomahawk chop chant. A sea of green-wearing Eagles fans screamed "Go Birds" and sang "Fly! Eagles! Fly!"
"This community has opened their arms," NFL Commissioner Roger Goodell said. "This is a wonderful community. It's a diverse community. The indigenous communities here, we're so proud to partner with them also."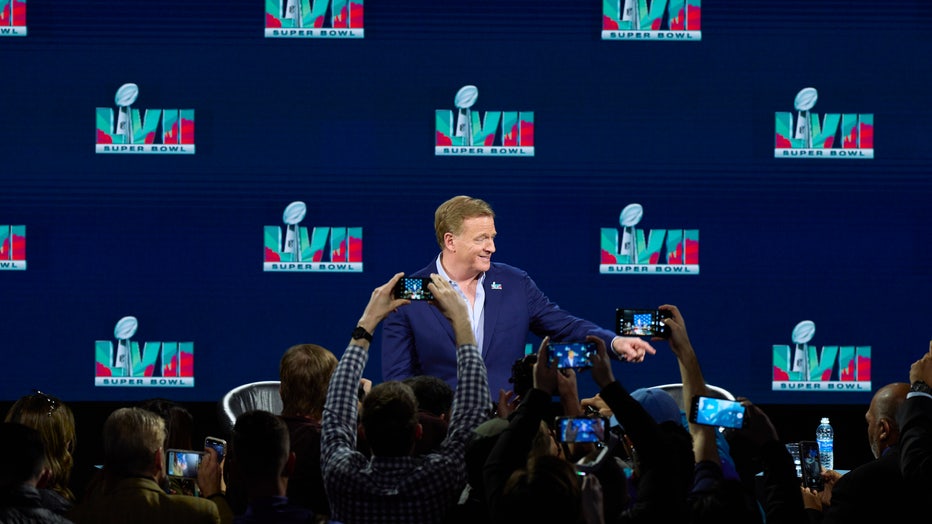 NFL Commissioner Roger Goodell speaks during a press conference ahead of Super Bowl 57 at the Phoenix Convention Center on February 8, 2023 in Phoenix, Arizona. (Photo by Cooper Neill/Getty Images)
There was a strong sense of normalcy at last year's Super Bowl in Los Angeles but the teams held opening night remotely and in-person availability with players and coaches was shortened to a couple of days because of COVID-19 restrictions.
The league suspended protocols in March and had no issues throughout the season.
The Chiefs and Eagles met the media on opening night and three more times through Thursday, a return of several opportunities to interview players and coaches.
READ MORE: Eagles and Chiefs fans ready for Super Bowl match up – but which fans will outnumber the others?
This is Kansas City's third appearance in a Super Bowl in four years. Chiefs coach Andy Reid made sure to install the game plan last week while the team practiced at home.
"You can take your time and make sure you're nice and thorough — we didn't rush into it," he said. "Before you get down to Arizona, with the distractions and different events that go on, you'd like to at least have the base part (established). If you have to tweak here or there, you can do that."
Eagles coach Nick Sirianni treated his family time this week in Arizona like a normal week back in Philadelphia.
"I'll see them Thursday and I'll do my very best to be a really good dad on Thursday, but on Tuesday and Wednesday, I'll do what I normally do," he said earlier in the week. "I'll be in the office late, continuing to work through the plan, continuing to iron out the details of the plan."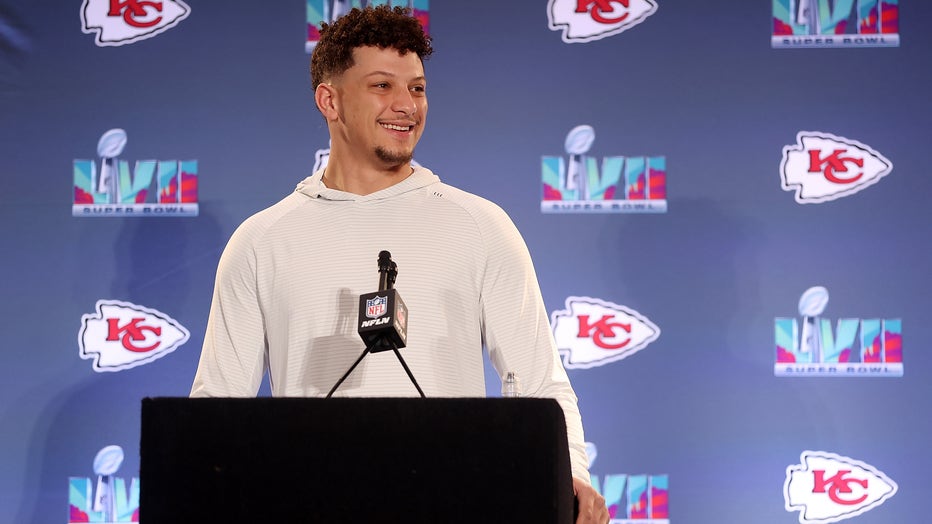 Patrick Mahomes #15 of the Kansas City Chiefs speaks to the media during the Kansas City Chiefs media availability prior to Super Bowl LVII at the Hyatt Regency Gainey Ranch on February 08, 2023 in Scottsdale, Arizona. (Photo by Christian Petersen/Ge
Chiefs quarterback Patrick Mahomes, who won his second AP NFL Most Valuable Player award on Thursday night, told his teammates to keep their focus on the game and avoid the hoopla surrounding it.
"The Super Bowl week is special. It's a special week, but it's not about being down there the week of the Super Bowl, it's about winning the game," Mahomes said. "I want guys to keep that at the front of mind. Enjoy it, enjoy the whole entire week, but make sure you're prepared to go out there and play your best football as well."
More than 70,000 screaming fans will greet Mahomes, Jalen Hurts and the teams on Sunday. Even more fans will be around the stadium without tickets to soak in the fun.
A tailgate hosted by Guy Fieri is free for 10,000 people who pre-registered for tickets. The tailgate starts at 11:30 a.m. and is a short walk from the stadium. It features more than 20 different restaurant pop-ups and interactive dining experiences for fans. Diplo will perform live as the musical entertainment.