Suicide prevention text-for-help expands statewide in Minnesota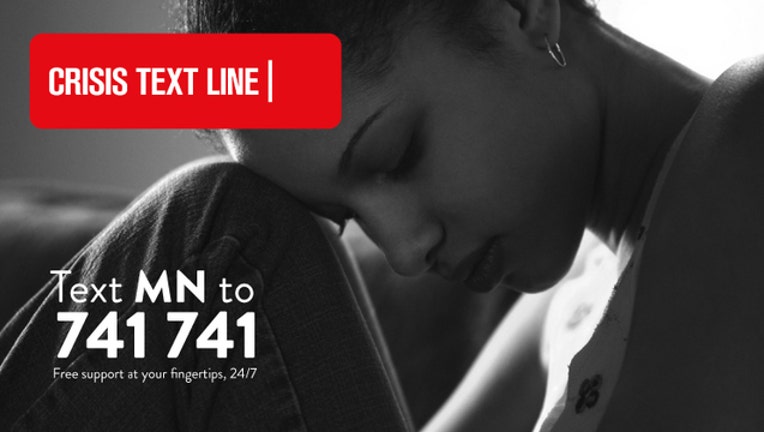 article
ST. PAUL, Minn. (KMSP) - Minnesota now has a statewide, 24/7 text-for-help service for people contemplating suicide and facing mental health issues. As of April 1, 2018 people who text MN to 741741 will be connected with a trained counselor who will help them through a crisis and connect them to local resources. 
Minnesota has had text-for-help suicide prevention services since 2011, but they have only been available in 54 of 87 counties, plus tribal nations. Crisis Text Line will offer suicide prevention and education efforts statewide, including the Twin Cities metro.
Crisis Text Line is a nonprofit that has across the United States nationally since 2013. The organization handles 50,000 messages per month across the country, with an average wait time of 39 seconds.
Crisis Text Line counselors undergo a six-week, 30-hour training program. Supervisors are mental health professionals with either master's degrees or extensive experience in the field of suicide prevention.
The National Suicide Prevention Lifeline at 1-800-273-8255 also provides 24/7 support.
FUNDING SHORTAGE FOR CRISIS CONNECTION
Crisis Connection, Minnesota's suicide phone hotline, could be shut down next month due to a lack of funding. Crisis Connection is the only call center in Minnesota that takes calls from the National Suicide Prevention Lifeline. 
The center will start shutting down May 21 unless it can find financial support. Crisis Connection needs about $970,000 annually to operate. 
HELP IS AVAILABLE
The National Suicide Prevention Lifeline number is 800-273-8255. The hotline has trained staff available 24/7 to help those in crisis. Everyone can play a role in preventing suicide by being aware of the warning signs of suicidal behaviors:
- Talking about wanting to die; feeling hopeless, trapped, or in unbearable pain, being a burden to others
- Looking for a way to kill oneself
- Increasing the use of alcohol or drugs
- Acting anxious, agitated, or reckless
- Sleeping too little or too much
- Withdrawing or feeling isolated
- Showing rage or talking about seeking revenge
- Displaying extreme mood swings.
WHAT YOU CAN DO
If you believe someone is at risk of suicide:
- Ask them if they are thinking about killing themselves. (This will not put the idea into their heads, or make it more likely that they will attempt suicide.)
- Call the U.S. National Suicide Prevention Lifeline at 800-273-TALK (8255).
- Take the person to an emergency room or seek help from a medical or mental health professional.
- Remove any objects that could be used in a suicide attempt.
- If possible, do not leave the person alone.
RESOURCES
http://www.actionallianceforsuicideprevention.org/NSSP
http://www.suicidepreventionlifeline.org