Strangers use Facebook to reunite Minneapolis woman with stolen bike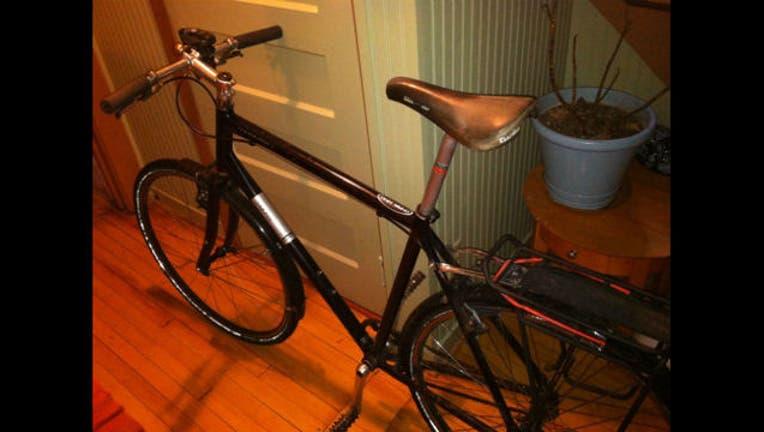 article
Sunday night, Zoe Prinds-Flash's Jamis commuter bike was stolen from the backyard of her residence off Lake St. in south Minneapolis's East Phillips neighborhood.
But within hours, she was reunited with it thanks to strangers who helped her out via the Twin Cities Stolen Bikes Facebook page.
Early Monday morning, someone who knows Zoe published this post about the stolen bike on Twin Cities Stolen Bikes:
Posting for Zoe Prinds-Flash who had her bike stolen from her backyard it is a:
-Jamis commuter
-studded tires
-bright blue crate attached to the back rack with a rear light drilled into it
-black full fenders (planet bike?)
-vintage Turbo saddle
-Surly handlebars
If you see it please contact me or Zoe.
Zoe wasn't even tagged in that post, but less than eight hours later, someone commented that they spotted the bike in south Minneapolis. A short time later, an employee at the Freewheel Bike Shop along the Midtown Greenway noticed that a bike that had just left the store matched the description of Zoe's. That employee had referred the man with the bike to take it to Sunrise Cyclery, so he immediately headed there in hopes he could intercept it before the man left the store.
At Sunrise, the Freewheel employee made sure the bike didn't leave the premises until it was back in Zoe's possession.
Prinds-Flash hadn't been following the Facebook thread, so she was pleasantly dumbfounded when a friend called her and said her bike had been found.
"It came out of nowhere. She called me and said, 'What does your bike look like?' I'm on my way to get it right now,'" Zoe says. "People who saw it online called... [the bike] ended up at Sunrise and she just stood there repping me, saying, 'This is my friend's bike.'"
"Everyone got together to help get the bike back in this amazing Minneapolis way," she continues. "I was totally overwhelmed and so thankful that people cared enough to follow through with that."
As for the bike thief, Prinds-Flash says the circumstances surrounding the heist remain unclear. The man who brought the bike into Sunrise claims he noticed it outside the homeless shelter he was staying at and actually reported it stolen -- a version of events supported by the fact that he had already filed a police report when Zoe showed up to reclaim it.
The man said he had taken the bike to the shops in an effort to purchase a lock for it until it could be reunited with its rightful owner.
"I'm not sure about that, but I'm just glad that someone who knew me and saw this stuff [on Facebook] was really dedicated," Prinds-Flash says. "It's an important thing and not everybody understands that some people are full-time bike commuters."