St. Paul officer honored for saving two gunshot wound victims four months apart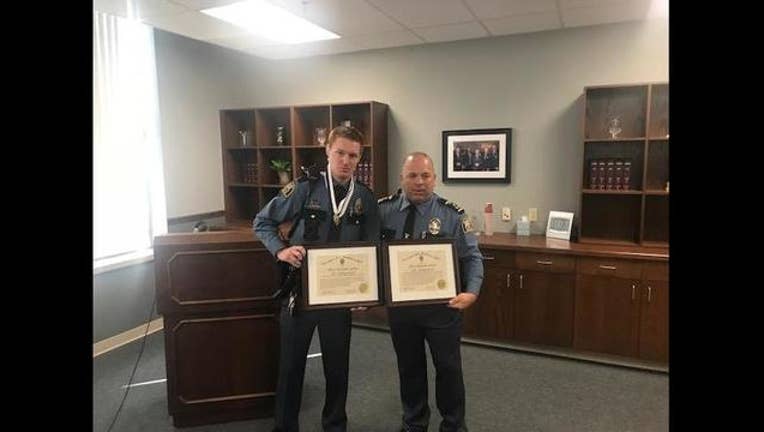 article
ST. PAUL, Minn. (KMSP) - Two dramatic, life-saving incidents just four months apart led the St. Paul Police Department to honor one of its own Wednesday.
Officer Alexander Graham received two life-saving awards for helping a store clerk and another resident survive gunshot wounds in separate situations.
In the first incident, Graham responded to a robbery at a gas station Nov. 23, 2017. There, he found a store clerk shot in the neck and bleeding.
Graham applied pressure to the wound to save the man and simultaneously radioed for officers to set up a perimeter. While doing so, he instructed a fellow co-worker to pull up surveillance video, so police could search for the suspect. The victim of the shooting lived.
In February, Graham found himself in another life-saving situation, this time on Feb. 5, 2018. He responded to an assault where a man had been shot in the upper leg.
Graham directed bystanders to apply direct pressure to the wound and hold the victim's neck steady to protect the airway. Police say Graham's quick actions may have saved that victim's life, too.
St. Paul Police Chief Todd Axtell said he had never been able to award the same person twice before and praised his officer.
"Trusted service with respect, compassion, dignity, making sure that we're taking care of the human side of this job and you did that today," he said.
"Your ability to remain calm, act quickly and communicate clearly at such an intense scene is commendable to say the least," Axtell said to Graham at the event Wednesday.
Graham, however, downplayed his efforts, saying it's what anyone would have done in his position.
"Any of my partners would have done the same thing, because they were all right there in each of these situations with me," Graham said. "It just shows that there's hundreds of other cops that go to work every day in this city and across the state that serve the citizens with compassion, respect and really care about the people they serve."