Southwest buys more deicing trucks after December fiasco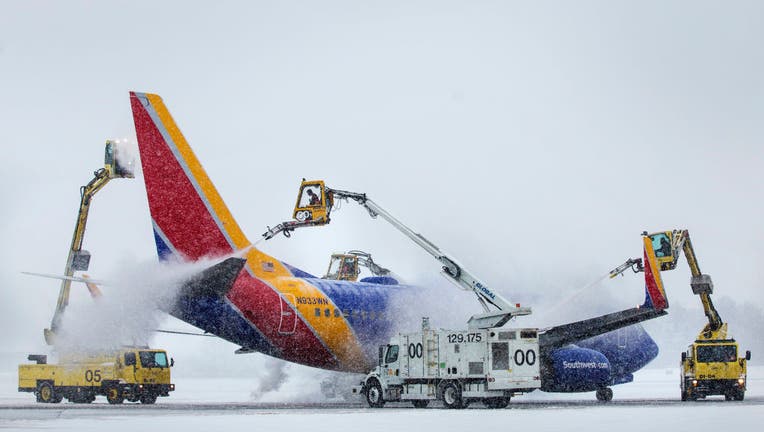 article
The CEO of Southwest Airlines pushed back Tuesday against the view that his airline's December breakdown was caused by a failure to invest enough money in crew-scheduling technology, instead blaming extremely cold weather that forced it to stop flying at some airports.
Southwest said it is buying more deicing trucks and lining up additional deicing pads at key airports and buying more engine covers and heaters to avoid a repeat.
The airline also said it will increase staffing during extremely cold weather, and it will improve phone systems for customers and employees.
A severe winter storm just before Christmas affected all airlines, but Southwest struggled far more than the others to recover. It wound up canceling nearly 17,000 flights in 10 days before resuming a normal schedule. Unions for pilots and flight attendants said technology used to reassign crews to planes bogged down, and workers spent hours on hold when they called headquarters for instructions.
RELATED: Southwest Airlines flight schedule returns to normal, mostly
Robert Jordan said the entire debacle could be traced to Southwest's inability to keep flying in extremely cold weather at key airports including Denver and Chicago Midway.
"I do not think we have a chronic underinvestment in technology," he said at a JPMorgan investor conference. He repeated a previous estimate that the Dallas company will spend more than $1.3 billion on information technology this year.
Jordan also defended the airline's business model against critics who say its point-to-point route map makes it more vulnerable to flight disruptions that start in one part of the country — caused by bad weather, for example — and then ripple across the network.
RELATED: Southwest passengers say plane shook 'like crazy' causing some to vomit
The frozen conditions in Denver and Chicago started the mess, he said, "and it would have caused the issue no matter what the network structure was."
Southwest said in a filing that it continues to expect to report a loss for the first quarter, with lingering fallout from the December crisis cutting revenue by up to $350 million. That is on top of an $800 million drop in fourth-quarter pretax income that Southwest attributed to the meltdown, which is being investigated by federal officials.
Shares of Southwest rose about 1% in midday trading.