Snowpack melting could lead to major flooding in Minnesota
(FOX 9) - Much of Minnesota is coming off the wettest winter in modern history, and not much has changed since we entered March.
Eventually though, our snowpack will melt, and that could lead to some big-time river flooding as we head through spring.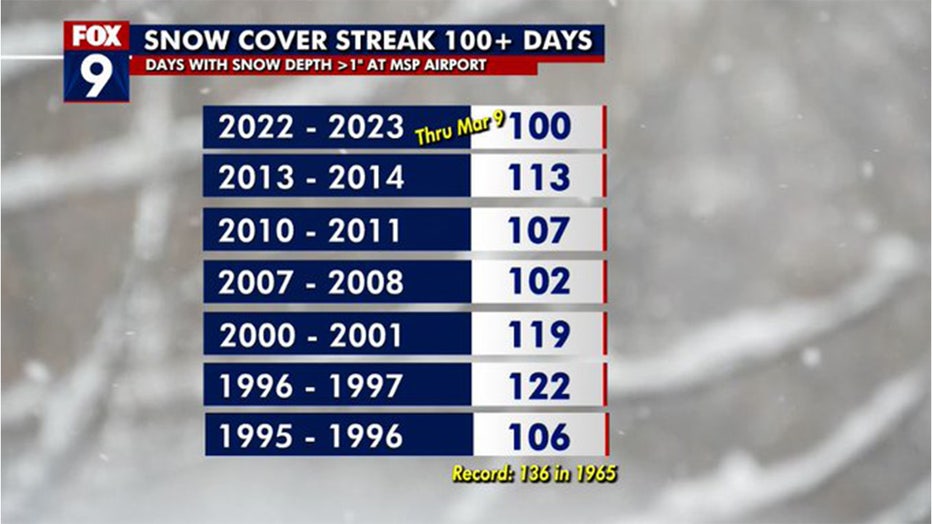 Snow cover streak for 100 days.
Four consecutive months with above-average snowfall and some rain mixed in, and this year has the potential to lead to some of the highest spring river levels of the last two decades. The Twin Cities has now eclipsed 100 consecutive days with at least 1 inch of snow on the ground.
That means that almost all of the moisture, snow and rain combined, that has fallen since late December is still frozen and locked away in our current snowpack. And for a season closing in on 80 inches of snow now, that's a lot of moisture.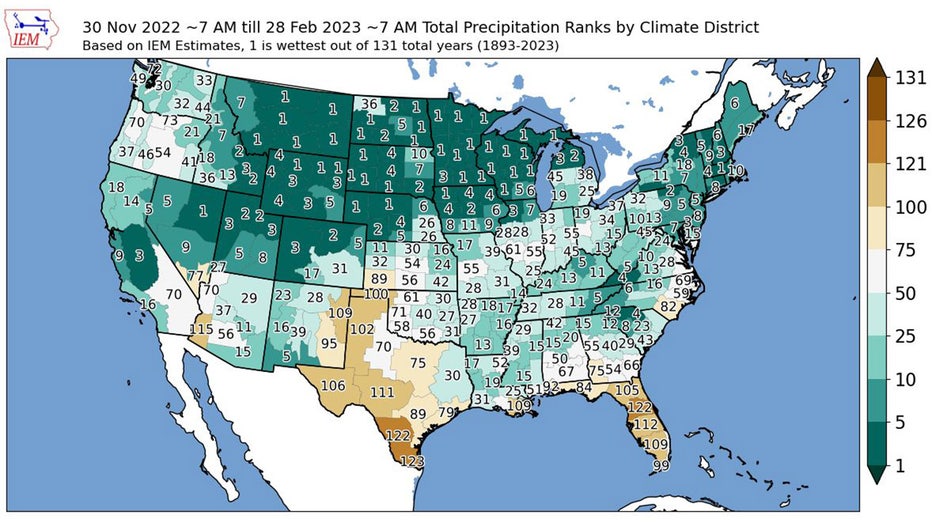 Winter precipitation ranked across the country. 
But the Twin Cities isn't alone. Much of Minnesota, the Dakotas, and the central and northern Rockies have experienced a record wet or near record wet winter. Any dark green shaded area on this map with a 1 labeled on it indicates a climate zone that has experienced record wet winter months from December through February. And now we've continued that trend into early March.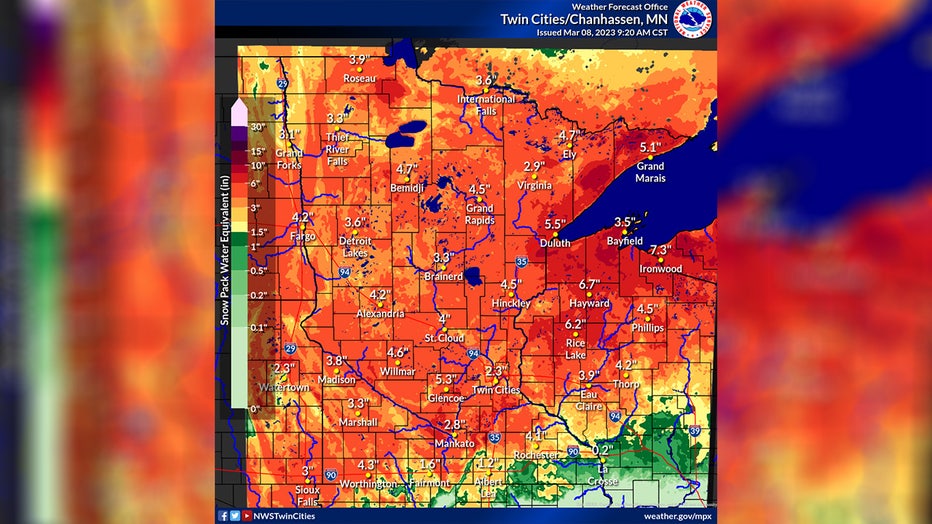 Snow water equivalent form the National Weather Service. 
While this is great news for the current drought as some of this water will end up in the ground, and the rest though will end up as runoff going into our ponds, lakes, and rivers.
This map indicates our snow water equivalent or shows just how much liquid water is locked away in our snowpack that may end up as runoff. The colors indicate that much of the area has anywhere from 3 to 6 inches of water ready to thaw.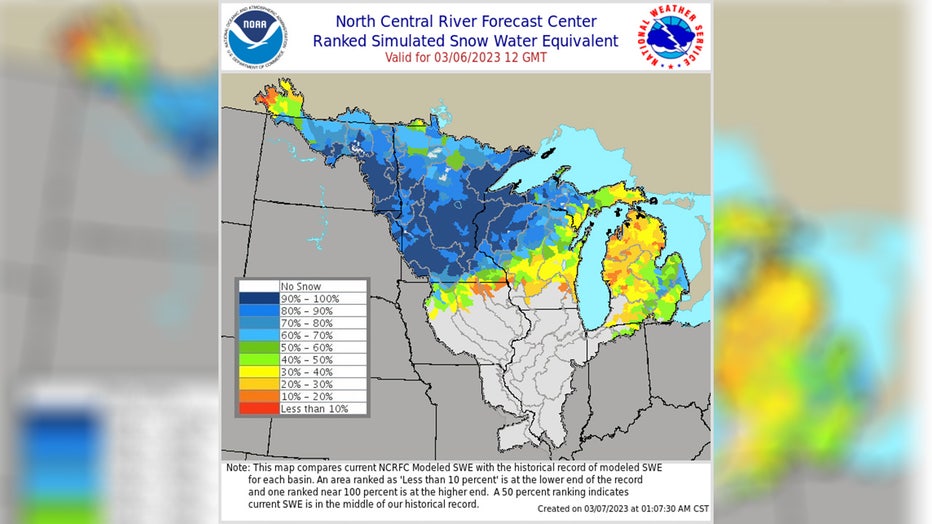 North Central River Forecast Ranked Simulated Snow Water Equivalent 
To show you just how much that is compared to the typical year, here is a map showing the percentile rank of that liquid when compared to the average at this point in the season. Most of the snowpack is in the 80th to 100th percentile... meaning many areas are approaching record-high amounts of water locked away in the snow for this time of year.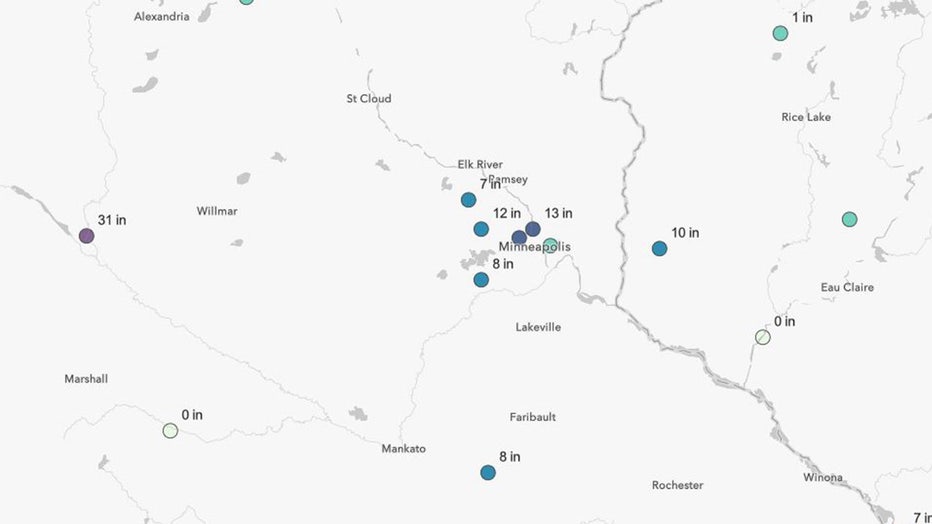 Frost depth across areas of Minnesota.
Now admittedly we're in a little bit of uncharted waters. The depth of the frost in our soil, or just how deep into the ground is frozen is quite small in some cases, but there's a huge range. Some areas are close to zero, others have more than 2 feet. So there's an unknown factor of just how much moisture the soil can soak up as it melts
What you can do right now, especially as a home or residence owner is trying to get as much snow and ice away from your house as possible to reduce the risk of water running off into the home.
Make sure any drainage areas around your house, including your gutters and window wells are clear of clogs so they can drain. Test your sump pump to make sure it works and always make sure there is either a backup system or a battery backup just in case your main pump fails.