Seven Minnesotans affected by Hy-Vee salad Salmonella outbreak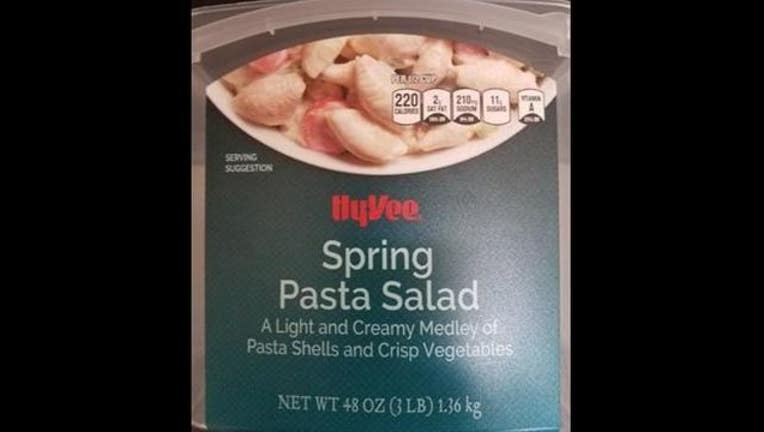 article
(KMSP) - Salmonella linked to a pasta salad product from Hy-Vee grocery stores affected seven Minnesotans, says the Minnesota Department of Health.
The seven Minnesota cases happened between June 24 and June 30 and impacted people ages 23 to 89. Two people were hospitalized and both are recovering. Additional illnesses related to the outbreak are also under investigation.
The Spring Pasta Salad product was distributed to all of Hy-Vee's 244 grocery stores across its eight-state region of Iowa, Illinois, Missouri, Kansas, Nebraska, South Dakota, Minnesota and Wisconsin.
Of the seven people with reported illnesses, six consumed Spring Pasta Salad from four different Hy-Vee grocery stores. The pasta salad contains shell pasta, mayonnaise, carrots, celery, cucumbers, onions and green pepper. It may have been purchased in a sealed 16 oz. or 48 oz. container, or scooped at the deli counter into clear plastic containers. The expiration date range is between June 22, 2018 and Aug. 3, 2018.
Officials at Hy-Vee voluntarily removed the Spring Pasta Salad from all stores, including those in Minnesota Monday.
Symptoms of Salmonella include diarrhea, abdominal pain and fever. The symptoms usually begin within 12 to 96 hours after exposure, but they can begin up to two weeks after exposure. Infections usually clear in five to seven days, but around 28 percent of laboratory-confirmed cases require hospitalization.
According to the Department of Health, Salmonella infections in healthy people do not require medical treatment.
Approximately 700 to 975 Salmonella infections are reported each year in Minnesota.
Customers who purchased the Spring Pasta Salad product should dispose of it or return it to their local Hy-Vee store for a full refund. Consumers with questions may contact Hy-Vee Customer Care representatives 24 hours a day, seven days a week at 1-800-772-4098.