Senate Republicans fire Minnesota commerce commissioner as Walz's emergency order is extended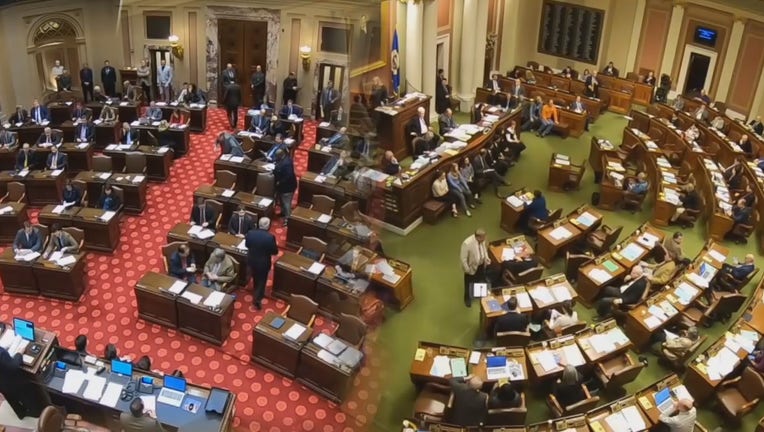 ST. PAUL (FOX 9) - Minnesota Senate Republicans fired another of Gov. Tim Walz's commissioners during a short but contentious special session Friday, after they were unable to end Walz's emergency powers over the coronavirus pandemic.
The Senate voted 33-31 to remove Commerce Commissioner Steve Kelley. The vote fell along party lines with only two lawmakers breaking ranks. Three Republicans did not vote.
Kelley is the second Walz commissioner that the Senate has fired in the past month. GOP members were upset with him for blocking the long-delayed Enbridge Line 3 oil pipeline in court.
"It wasn't just strike one, it was strike two and strike three," Senate Majority Leader Paul Gazelka, R-East Gull Lake, said. "Last week, I went to the governor and said, 'Governor, this commissioner's not working out.'"
Republicans also fired Nancy Leppink, the state's labor commissioner, in August.
"My administration is fighting COVID everyday doing our best to protect Minnesotans, get our businesses open. I certainly wish I could get a little help from the Legislature on that," a visibly frustrated Walz told reporters after the vote. "We had the opportunity today to talk about some important issues, but we tried to pretend like COVID isn't real." 
Republicans have confirmed three members of Walz's cabinet 20 months into his term, which allows them to hold confirmation votes on the others at any time.
The Senate also voted 36-31 to end Walz's executive authority over the coronavirus pandemic. But stripping the governor's authority would require votes in both chambers, and the DFL-controlled House used a procedural motion to uphold Walz's powers.
During the debate, Republican Assistant Minority Leader Jon Koznick mistakenly emailed talking points meant for fellow GOP lawmakers to every Democratic member instead.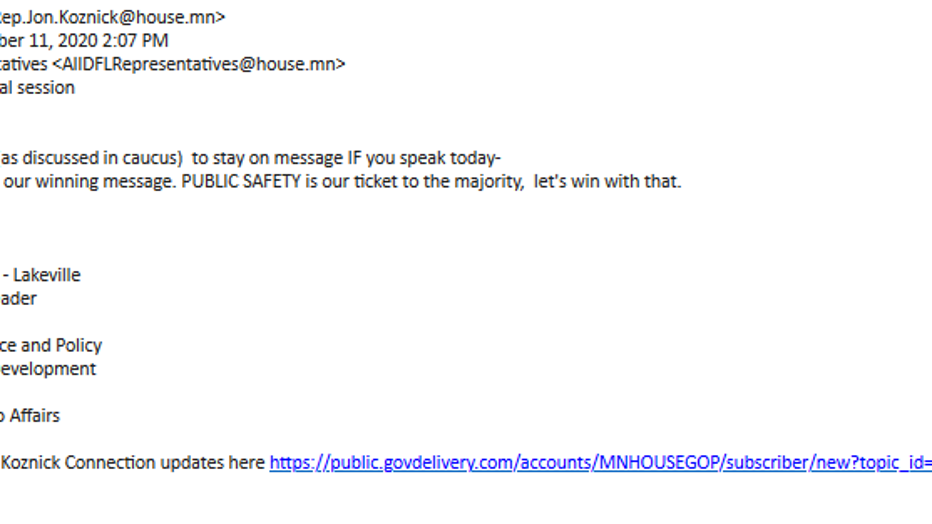 "COVID issues are not our winning message. PUBLIC SAFETY is our ticket to the majority, let's win with that," wrote Koznick, R-Lakeville, in an email that Democrats provided to FOX 9.
 
Democrats blasted Koznick and said it was proof Republicans were playing politics with the pandemic.
Also during the debate, state Rep. Fue Lee revealed that he contracted the coronavirus in August and missed the special session that month. Lee, DFL-Minneapolis, said 20 family members had tested positive including his father, who was hospitalized twice. He said Republicans' attempts to downplay the emergency was "belittling" to him.
"It's an insult to many families like myself that have been impacted by COVID," Lee said.
Both the House and Senate started Friday's special session with a moment of silence on the 19th anniversary of the Sept. 11, 2001 terrorist attacks, which killed 2,977 people. 
The Senate then moved into the debate on Walz's emergency powers. Gazelka contrasted the coronavirus, which has killed more than 190,000 Americans this year, to the 2001 attacks.
"We're not in an emergency. 9/11 was an emergency," Gazelka said. "We do not minimize the fact that COVID 19 is serious, is a pandemic, and we have to fight it together."