Roseville Area High School senior dies in motorcycle crash, will be honored at graduation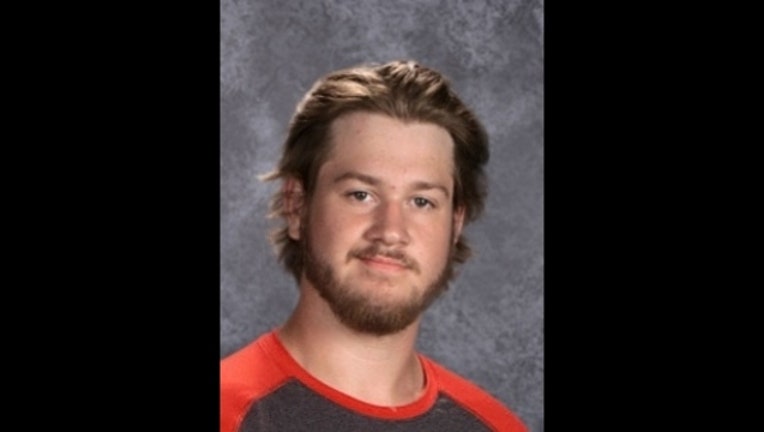 article
(KMSP) - A Roseville Area High School senior, who died in a motorcycle crash the day before graduation, will be honored by his classmates during the ceremony.
At Friday night's commencement, there will be a moment of silence for 17-year-old Declan Ronan Raverty, known as "Duck" to his classmates. There will also be an empty chair to honor his loss.
Raverty's classmates learned about the crash on Friday morning, when they gathered for graduation rehearsal. Counselors and support staff were on hand to assist students.
On Thursday around 4:43 p.m., Raverty was riding his Harley Davidson motorcycle northbound on Highway 95 just north of Highway 36 in Oak Park Heights. An SUV was leaving the Sunnyside Marina, attempting to cross 95 and go south. While crossing, the motorcycle hit the SUV's rear quarter-panel. After the impact, the motorcycle came to a rest in the middle of the northbound lanes.
Raverty was wearing a helmet at the time. The passenger on the motorcycle survived the crash with non-life threatening injuries. She was also wearing a helmet.
RAHS Principal Jenny Loeck:
"Declan was a wonderful student at Roseville Area High School. He brought a tremendous amount of energy and a bright personality to our school community. Declan was elected into this year's Homecoming Royalty Court and enjoyed very positive relationships with students and staff alike. He will be dearly missed by all."
Roseville Teacher and Coach Jeff Davies:
"It's hard for me to put into words how much Duck meant to me. He was more than special and I will miss him dearly. Duck and I connected on multiple levels. He was a football player up until his senior year and I was one of his coaches. He had the heart of a lion and loved to compete. Duck and I also shared a love of the woodshop and spent a lot of time together in the woodshop. We joked a lot about how we could be brothers because of other similarities that we share, things like a love of the outdoors and making others laugh, just to name a few.
"Duck was the type of person that would drop what he was doing if he saw someone that needed help. He was a true original that marched to his own beat, an example of this is... how many people have you met that went by the name "Duck"? He also was the only student I have ever had that wore a kilt to school. Duck had a strong sense of right and wrong and how to treat people. Duck always seemed to know his "path" and it didn't matter to him what others thought if he knew it was the right thing. He was a very hands-on student and was looking forward to moving to Iowa to work in road construction.
"I was so proud of him and how much he had grown and matured as a person in the last 4 years. Duck touched the hearts of a lot of people and he will be missed by so many. Without a doubt he was one of the most recognizable students in our building. I have heard the expression that sometimes the stars that burn the brightest, burn out the quickest. Duck's star burned very bright."