Record Store Day drives vindication of vinyl
MINNEAPOLIS (FOX 9) - Record Store Day is a holiday of sorts for small businesses selling music. Independent record store owners in the Twin Cities celebrated Saturday and marked the most meaningful day of the year for their collective bottom line.
A mass of music lovers lined the rows of records at Down in the Valley, seeking special releases sold for the first time on Saturday. Dolly Parton, Pearl Jam, and Madonna are among the big-name artists releasing music specifically for Record Store Day.
Twin Cities punk legends Hüsker Dü put out a new live album from 1979 and '80 and bassist Greg Norton took it all in while meeting fans of his former band, which met at a record store.
"It's fun seeing what other records people are buying at the same time," said Norton, who now plays with Ultrabomb. "It just makes me happy."
The soundtrack for success at record stores like Down in the Valley in Golden Valley and Barely Brothers in St. Paul starts with a banger of a holiday.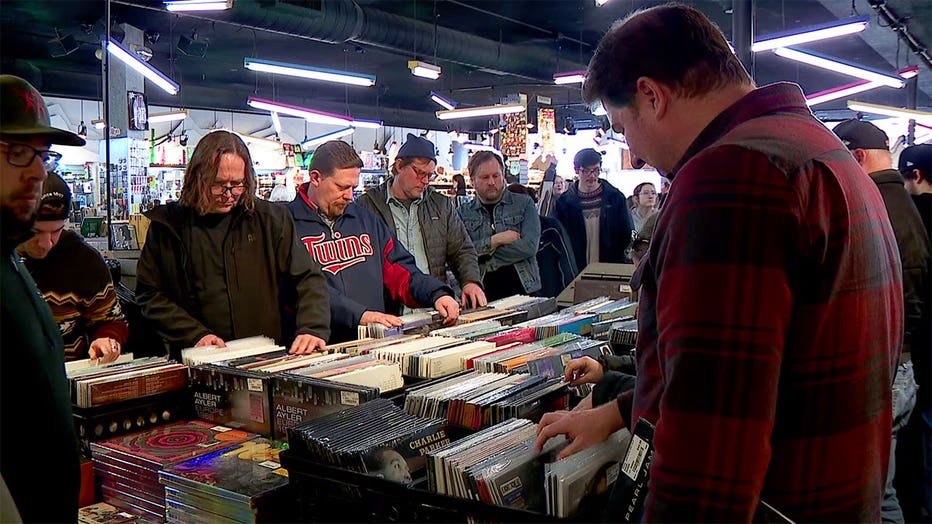 Record Store Day in the Twin Cities. (FOX 9)
A crowd of hundreds waited for the doors to open at Electric Fetus for Record Store Day, but the impact on these businesses will last a lot longer.
"It's kind of our time to showcase to new customers what we have, what we're all about," said Electric Fetus owner Aaron Meyerring.
While Soul Asylum singer Dave Pirner DJ'ed in the back of Electric Fetus, Meyerring explained this day is his chance to meet new customers and try to keep them buying records.
43 million vinyl records were sold last year, outpacing CDs for the first time in 35 years, according to the Recording Industry Association.
It was the 16th straight year of vinyl sales growth. Perhaps not coincidentally, this is the 16th year of Record Store Day.
"We were still selling records, but Record Store Day was started to be that 'Hey, we're still here. Record stores are still a fabric of society and coolness'," said Down in the Valley general manager Scott Farrell.
Paid subscription services still beat vinyl with about ten times the revenue, but even the digital generation is coming around with help from special Record Store Day releases by artists like Taylor Swift.
Electric Fetus sold more than 400 of her Folklore live album, emptying the shelves.
"This man comes over and he's like 'I got the last copy'," said Avery Seed of Maple Grove.
Seed said she listens to her digital music a lot, but since getting a record player about a year ago, she started preferring the vinyl experience.
"She'll probably remember 'I got Taylor Swift on Record Store Day 2023 at The Electric Fetus'," said Meyerring. "And that's pretty cool."