President Donald Trump to meet with Russian President Vladimir Putin at G-20 Summit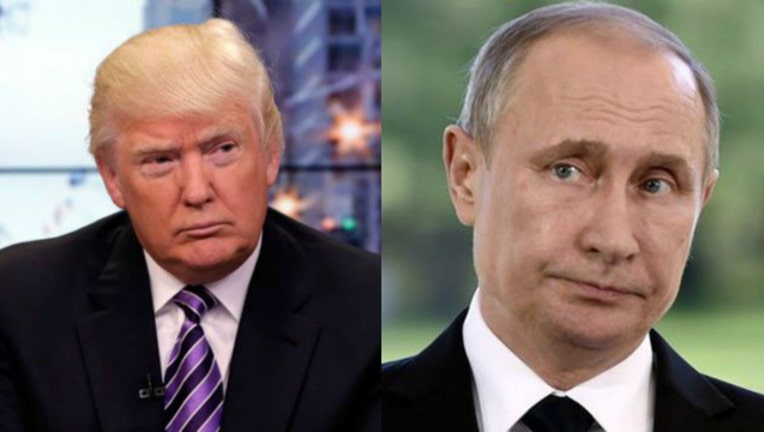 article
WASHINGTON (AP) — President Donald Trump will convene a high-stakes meeting with Russian President Vladimir Putin at the summit of industrial and emerging-market nations in Germany next week, the White House said Thursday, amid swirling allegations about Moscow's role in the 2016 elections.
National security adviser H.R. McMaster confirmed that Trump will meet with Putin along the sidelines of the annual Group of 20 meeting in Hamburg, Germany, part of an itinerary that will include meetings with several world leaders.
Trump's first in-person encounter with Putin has been highly anticipated as Trump pushes back against allegations that some of his associates may have had contact with Russian officials during the 2016 campaign and the transition.
All 17 U.S. intelligence agencies have agreed Russia was behind last year's hack of the Democratic Party's email systems and tried to influence the 2016 election to benefit Trump. Members of his campaign are also under investigation for possible collusion with Russia in the lead-up to the campaign.
Trump has staunchly denied that he had any contacts with Russia during his campaign. Russian officials have denied any meddling in the 2016 election.
Putin's spokesman Dmitry Peskov told Russian news agencies after the White House's announcement that Putin is expecting to meet with Trump in Hamburg. They "will meet at the summit in one way or another. We have said it before," he told state-owned RIA Novosti news agency.
McMaster and White House economic adviser Gary Cohn would not say whether the president intends to address accusations that Russia interfered in the 2016 presidential election, saying that the agenda is "not finalized" for this or any other meeting.
"Our relationship with Russia is not different from that with any other country in terms of us communicating to them really what our concerns are, where we see problems with the relationship but also opportunities," McMaster said.
The U.S.-Russian relationship deteriorated during Obama's eight years in office and Trump frequently said that he was hopeful of improving American ties with Russia.
But major disagreements remain over Ukraine and Syria, and Trump said in April that U.S-Russian relations "may be at an all-time low." The meeting will also come as Congress considers legislation that would impose economic penalties against Russia and Iran, legislation that has stalled after it cleared the Senate.
Trump will be under pressure to side with the U.S. intelligence agencies and press Putin on the issue of election meddling, something he has thus far been reluctant to do. Trump's promise of closer cooperation with Russia has prompted concerns that the U.S. will have diminished leverage over global issues and he could be more sympathetic to Russia.
"Putin is all about optics and symbolism," said Julianne Smith, a National Security Council and Defense Department official under President Barack Obama. "He wants the meeting and the photo more than the discussion."
Russia has sought to put itself on an equal footing with the U.S. since the collapse of the Soviet Union, extending its territory where it can, countering U.S. military action and positioning itself as a rival to the world's biggest economy.
McMaster said that Secretary of State Rex Tillerson is taking the lead on the discussions and "has been engaged in a broad, wide-range discussion about irritants, problems in the relationship but also to explore opportunities, where we can work together, areas of common interest. So it won't be different from our discussions with any other country."
Trump will kick off his second foreign trip in Warsaw, Poland, where he plans to deliver a major speech at Krasinski Square, the site of the memorial to the 1944 Warsaw Uprising against the Germans during World War II.
In Warsaw, Trump will meet with Polish President Andrzej Duda and attend a summit with a dozen European and Baltic leaders devoted to the Three Seas Initiative. The initiative is an effort to expand and modernize energy and infrastructure links in a region of Central Europe from the Baltic Sea in the north to the Adriatic and Black seas in the south.
In addition to Putin, White House officials said Trump would meet with the leaders of several other countries, including the United Kingdom, Germany, China, South Korea, Mexico, Indonesia and Singapore.
It will be Trump's second trip abroad as president following his initial foray to the Middle East and Europe in May.
__
Associated Press writer Nataliya Vasilyeva in Moscow contributed to this report.
__
On Twitter follow Thomas at https://twitter.com/KThomasDC and Salama at https://twitter.com/vmsalama