President Biden speaks at University of Tampa on Social Security, Medicare
TAMPA, Fla. - Fresh off his State of the Union address, where he touted the formation of 12 million jobs during his administration and the lowest unemployment rate since 1969, President Joe Biden was in Tampa Thursday to discuss the importance of key social programs.
The President went after Florida senator Rick Scott, saying his ideas on Medicare and Social Security leave seniors vulnerable. 
"Republicans seemed shocked when I took out the pamphlets they were using for cutting Medicare and Social Security, read from Senator Scott's proposal," Biden said.
The president read directly from Senator Scott's plan twice, pointing out the part that says all federal legislation should sunset and be reevaluated.
Biden pointed out during the State of the Union that members of both parties applauded when he said Medicare and Social Security should both be protected.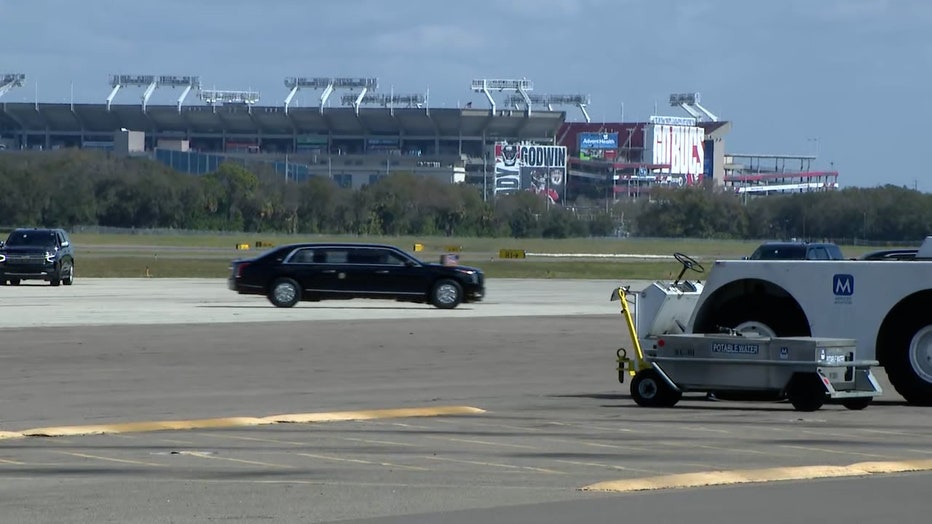 President's motorcade passes in front of Raymond James Stadium on February 9, 2023
"We are often told that Democrats and Republicans can't work together. As I told my Republican friends on Tuesday, if we could work together in the last Congress, and we did, there is no reason we can't work together to get things done in this congress," Biden said.
Senator Scott has released an ad responding to Biden's criticisms, saying Biden proposed something similar in 1975.
In a speech on Wednesday, Biden pulled out a copy of Senator Scott's campaign proposals for sun-setting the programs and also quoted Wisconsin's Republican Senator Ron Johnson who has authored legislation to put Social Security and Medicare on the chopping block in Congress every single year. Republicans though are crying foul on Biden's claims.
"I'll believe it when I see it and their budgets laid down with the cuts they're proposing," Biden said. "You know, I remind you that Rick Scott from Florida, the guy who ran the U.S. Senate campaign, has a plan. I got his brochure right here."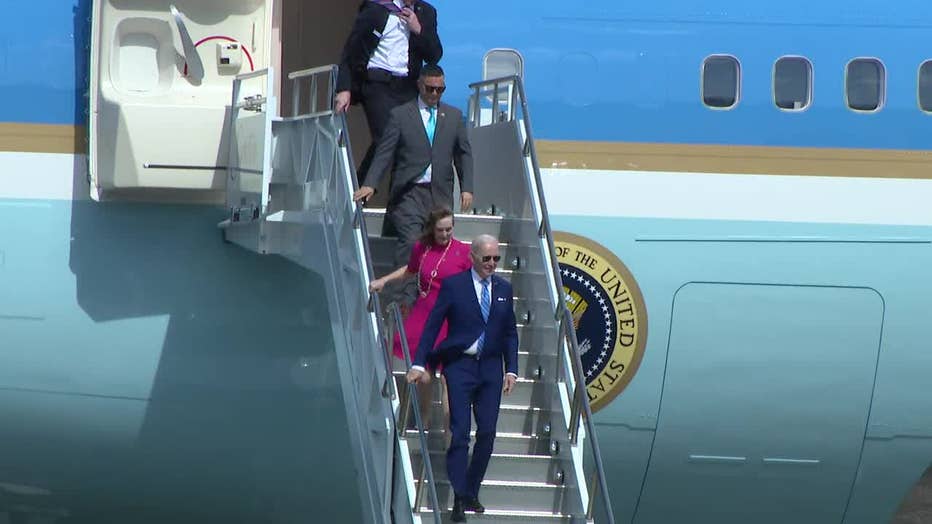 President Joe Biden departs Air Force One in Tampa ahead of speech at University of Tampa
PREVIOUS: State of the Union: Biden says US is 'unbowed, unbroken' in 2023 address
Scott has defended the details of his proposal, which would have made all federal legislation sunset every five years.
By this summer, Florida is expected to be the staging ground for at least two top-tier presidential campaigns. Former President Donald Trump launched his 2024 bid nearly three months ago from his Palm Beach estate, and Gov. Ron DeSantis is likely to join him in the coming months. Scott, believed to be the wealthiest member of the Senate, also has presidential aspirations.
At a news conference Wednesday, DeSantis talked up Florida's economy and leaned into cultural divisions while flanked by a row of gas stoves. Federal officials recently raised health concerns about the popular appliances.
MORE: Illegal U.S.-Mexico border crossings surge to highest levels since Biden took office
"They are trying to take away your gas stove," DeSantis said. "It shows they are coming for any little thing in your life."
Multiple administration officials have said they are not banning gas stoves, with White House press secretary Karine Jean-Pierre saying last month, "The president does not support banning gas stoves."
The Associated Press contributed to this report