Powerball jackpot now fourth largest in history after no winners Saturday night
The Powerball jackpot climbed to an estimated $1.55 billion after no one matched the game's six numbers Saturday and won the giant prize.
The numbers drawn Saturday night were: 47, 54, 57, 60, 65 and red Powerball 19.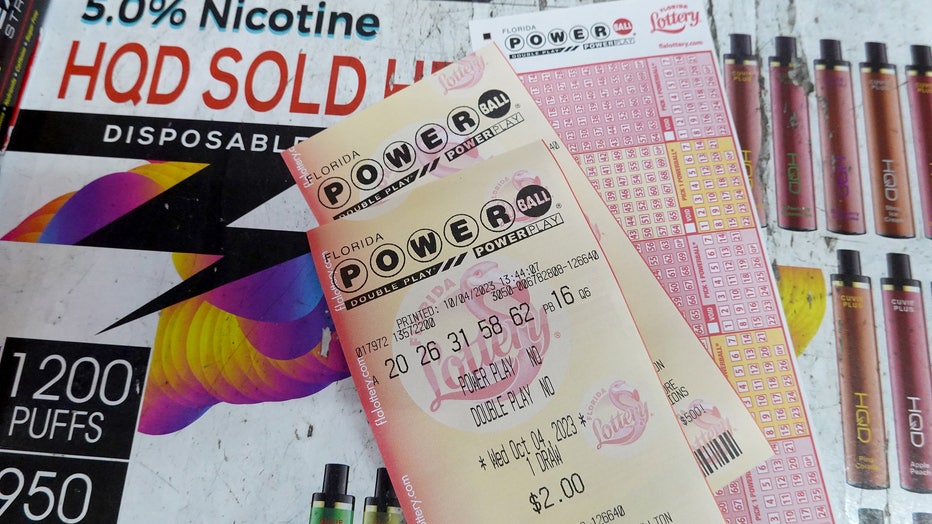 Powerball tickets are seen on a counter after being purchased in a store on October 04, 2023 in Miami, Florida. (Photo by Joe Raedle/Getty Images)
The $1.55 billion prize is for a sole winner who is paid through an annuity, with annual checks over 30 years. Most jackpot winners opt for cash, which for the next drawing Monday night would be an estimated $679.8 million.
READ MORE: Forbes 400 richest Americans: See all the multi-billionaires who live in your state
The jackpot is now the world's fourth-largest lottery prize after rolling over for 34 consecutive drawings, since the last time someone won the top prize on July 19. That streak trails the record of 41 draws set in 2021 and 2022.
The scarcity of Powerball jackpot winners reflects the game's daunting odds of 1 in 292.2 million.
Powerball is played in 45 states as well as Washington, D.C., Puerto Rico and the U.S. Virgin Islands.