Police chiefs ask Minnesota lawmakers to crack down on catalytic converter thieves
ST. PAUL, Minn. (FOX 9) - Legislation that cracks down on catalytic converter thieves cleared a Minnesota House committee Monday at the urging of police chiefs who've been frustrated with lawmakers' slow response to surging thefts.
The bill, authored by state Rep. Ruth Richardson, DFL-Mendota Heights, makes it a crime for someone other than a scrap metal dealer to possess a catalytic converter that's not attached to a car. It also imposes new requirements on scrap dealers under the threat of criminal penalties.
"Most of us know someone who's been impacted by catalytic converter theft, and some of us know people who've been impacted by multiple thefts," Richardson told the House Commerce committee shortly before it approved the legislation on a voice vote, sending it to another committee.
Catalytic converters help remove toxic chemicals from a vehicle's exhaust. They contain three precious metals that have soared in value in recent years and are relatively easy to steal. They're not etched with the vehicle identification number, making it hard for police to track stolen converters.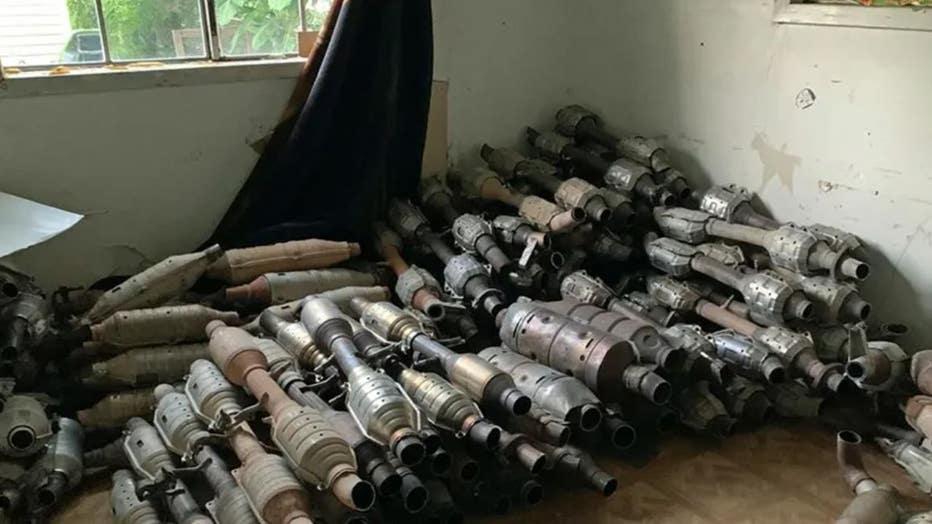 A cache of stolen catalytic converters. (U.S. Immigration and Customs Enforcement)
West St. Paul Police Chief Brian Sturgeon told lawmakers the problem was a nonissue as recently as 2019, but his agency recorded 177 stolen converters in 2021 and a similar number last year. One single mother of two young children had her catalytic converter stolen twice in the span of one month while her vehicle sat in her apartment's parking lot, Sturgeon said.
"Law enforcement, we cannot arrest our way out of this problem," he said. "We need legislative action."
To this point, lawmakers haven't done much. Two years ago, they approved grant money for cities that do free events where drivers can get their catalytic converters spray painted with identifying marks, but the move didn't slow down thieves. In Shakopee, 73 thefts cost drivers more than $100,000 last year, said Jeff Tate, the city's police chief.
"It's time for Minnesota to join other states and slow this trend down," Tate said.
Over the first half of 2022, Minnesota had the fifth-most insurance claims for stolen catalytic converters, according to data from insurance company State Farm.
The bill would force scrap metal dealers to mark each catalytic converter they buy with the vehicle identification number of the car or truck it came from. Scrap yards would have to "tag and hold," a term that means they'd have to keep any converter they purchase for at least seven days before reselling it. They wouldn't be allowed to pay for a purchased converter for five days after the sale.
Scrap metal dealers don't support the proposed regulations, which they said would make it harder to recycle catalytic converters and could drive up prices.
"Our objective is to make sure that these things keep getting recycled appropriately. Keyword: appropriately and legally," said Jeremy Estenson, a spokesman for the Institute of Scrap Recycling Industries. Estenson said scrap dealers don't support "tag and hold," and he asked lawmakers to exempt brick-and-mortar scrap yards and focus on people who operate out of pickup trucks.
Republican lawmakers consider setting up a task force to be a better approach. GOP members said they want to see what Congress does. Federal legislation would prevent thieves from simply crossing state lines and selling catalytic converters stolen from the Twin Cities in another state, they said.
"All we do is shift some of that criminal burden to other areas. It doesn't solve the problem," said state Rep. Tim O'Driscoll, R-Sartell.