Passenger claims marijuana candle was 'secret Santa' gift from coworker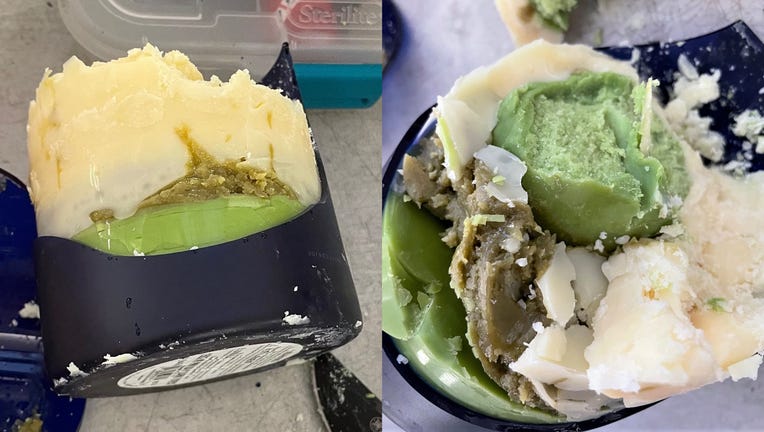 article
BOSTON - Airport officials this week in Boston said a passenger tried bringing marijuana disguised in a candle through security screening, and when asked about it, the man claimed it was a "Secret Santa" gift from his co-worker.
The Transportation Security Administration shared images on Twitter of the candle, taken Wednesday at Boston Logan International Airport. It said TSA officers noticed something "a bit strange" about it, so they opted to call in the Massachusetts State Police for further inspection.
RELATED: FDA considers regulating cannabis compound CBD in foods, supplements over safety concerns
Pictures shared by the TSA show the broken candle, revealing beige-colored wax on top and a green substance toward the bottom. The TSA said it was later determined that the candle contained marijuana. 
When asked about it, the 53-year-old man stated the candle was a "Secret Santa" gift from a co-worker, according to the TSA — which referred to the incident as a "travel fail."
While Massachusetts legalized the use of recreational marijuana by adults 21 and older in 2016, marijuana remains illegal under federal law and can't be carried through TSA checkpoints. The exception is products that contain no more than 0.3 percent THC on a dry weight basis or that are approved by the U.S. Food and Drug Administration. 
"TSA's screening procedures are focused on security and are designed to detect potential threats to aviation and passengers," the agency's website states. "Accordingly, TSA security officers do not search for marijuana or other illegal drugs, but if any illegal substance is discovered during security screening, TSA will refer the matter to a law enforcement officer."
RELATED: These 3 cities are the best for cannabis vacations
This story was reported from Cincinnati.