Over-the-counter opioid antidote Narcan hits store shelves this week
(FOX 9) - Consumers will now be able to buy naloxone over the counter without a prescription online and in retail stores.
Starting this week, customers can walk into CVS, Walgreens, or Walmart and find naloxone on the shelves under the brand name Narcan. Previously, it was only available from a pharmacist, who could prescribe the medication on-site.
"I think that this will hopefully kind of take that whole issue out of the equation, allowing people to access it without a conversation, without having to run it through your insurance or let's say you don't have insurance," explained Alicia House, the executive director of the Steve Rummler HOPE Network.
Overdose prevention advocates believe having the product available over the counter will increase access to the medication, which can revive someone from an overdose, and help reduce the stigma. However, they acknowledge it's not a perfect solution.
"Three to five minutes is really what you have for somebody who's not breathing to start incurring brain damage and organ failure," said Colleen Ronnei, the executive director of Change the Outcome.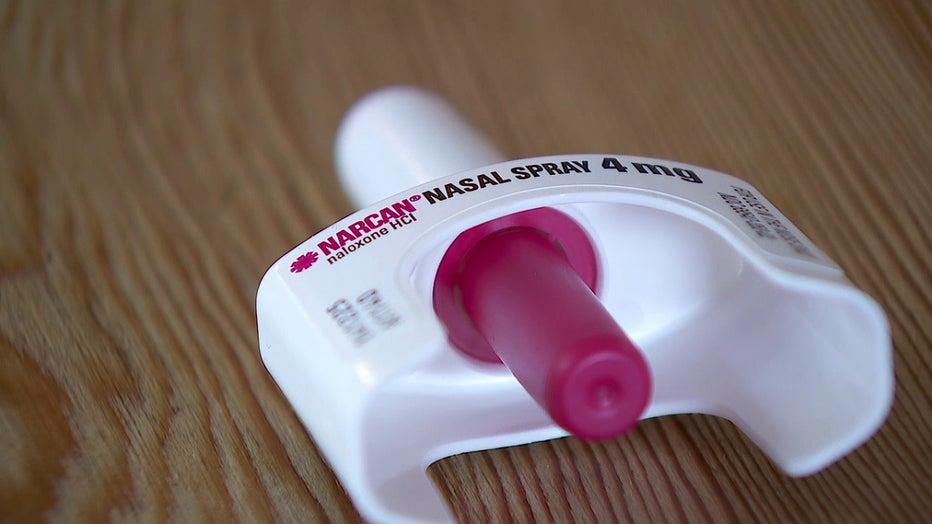 Narcan nasal spray (FOX 9)
In that short amount of time, someone wouldn't have an opportunity to run into a drug store and buy Narcan, so the goal will be that they already have it in a purse or backpack.
"You can administer it, and you can save someone's life," Ronnei said.
Ronnei was instrumental in helping pass a law that now requires most schools in Minnesota to carry naloxone. On-duty police also have to carry two doses.
A two-pack of Narcan will retail for $44.99, but other over-the-counter naloxone products will likely enter the market soon, which will create competition. In fact, a second over-the-counter naloxone nasal spray called RiVive was approved by the U.S. Food and Drug Administration in July and will likely hit store shelves in about six months.
"What we look forward to is continuing to see that price drop for the next six months to a year and then continuing to make it just more accessible for more general public to access," House said. 
Community groups can get the medicine at a lower cost and distribute it to the public.