North Dakota Gov. Doug Burgum launches long-shot bid for 2024 GOP presidential nomination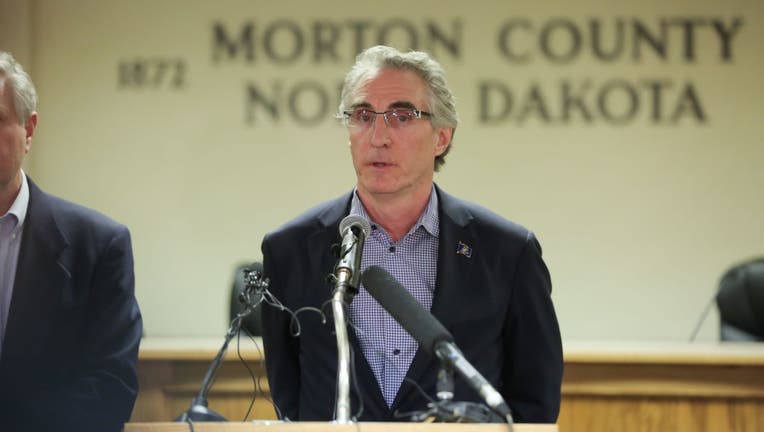 article
FARGO, N.D. (AP) - North Dakota Gov. Doug Burgum has announced his candidacy for the 2024 Republican presidential nomination, adding his name to the long list of contenders hoping to dent former President Donald Trump's early lead in the race.
Burgum, 66, made the announcement in the The Wall Street Journal and was expected to kick off his campaign Wednesday in the city of Fargo, where he lives and which is near the tiny farm town of Arthur, where he grew up.
"We need a change in the White House. We need a new leader for a changing economy. That's why I'm announcing my run for president," he said in a commentary posted late Tuesday on the newspaper's website.
Known to few outside North Dakota, Burgum faces an immense challenge in a field dominated by Trump and the better-known governor in the race, Ron DeSantis of Florida.
RELATED: Who is running for president in 2024? Meet the candidates
As evidence of Burgum's long odds, he isn't even the most notable candidate to announce a presidential campaign on Wednesday. Four hundred miles to the south, former Vice President Mike Pence was launching his White House bid in Iowa, taking on the president he served loyally for four years.
Burgum, a former computer software entrepreneur, plans to visit early voting states right away. He will campaign Thursday and Friday in Iowa, home of the first-in-the-nation Republican caucuses, and Saturday and Sunday in New Hampshire, which hosts the first GOP primary.
In a video previewing his announcement, Burgum portrayed himself as a common-sense, rural state conservative, distinctly experienced in energy policy and far removed from the bitter war of words between Trump and DeSantis as the 2024 GOP campaign heats up.
"Anger, yelling, infighting, that's not going to cut it anymore," Burgum said in the video, which features breathtaking vistas from across North Dakota. "Let's get things done. In North Dakota, we listen with respect, and we talk things out. That's how we can get America back on track."
As governor of the state's fourth-least populous state, he signed measures this year advancing conservative policies on culture war issues. They include prohibiting schools and government from requiring teachers and employees from referring to transgender people by their preferred pronouns, barring transgender girls and women from competing in women's sports, and banning abortion with few exceptions up to six weeks' gestation, before most women know they are pregnant.
His preview video also touched subtly on his opposition to "woke" ideology, a catch-all term that conservatives use derogatorily to refer to policies or ideas that acknowledge the existence of social injustice and racial inequality.
"I grew up in a tiny town in North Dakota," Burgum said. "Woke was what you did at 5 a.m. to start the day."
Burgum enters the race with a more advanced background in energy policy than most of the Republican field in light of North Dakota's decadelong petroleum industry boom, and his administration's effort to capture carbon dioxide from around the country.
"Instead of shutting down American oil and gas, we should unleash energy production," he said in the video, "and start selling energy to our allies, instead of buying it from our enemies."
In addition to Trump, DeSantis and Pence, Burgum will be facing off against former United Nations Ambassador Nikki Haley, U.S. Sen. Tim Scott of South Carolina, former New Jersey Gov. Chris Christie, former Arkansas Gov. Asa Hutchinson, anti-woke activist Vivek Ramaswamy, conservative talk radio host Larry Elder and businessman Perry Johnson.
Burgum was first elected as governor in 2016, reelected in 2020 and is eligible to run for a third time in 2024. In 1983, he founded Great Plains Software, which was acquired by Microsoft in 2011, and Burgum stayed on as a Microsoft vice president until 2007.
The GOP nominee is expected to face Democratic President Joe Biden in November 2024.