Noor trial opening statements: Prosecutors doubt thump on squad car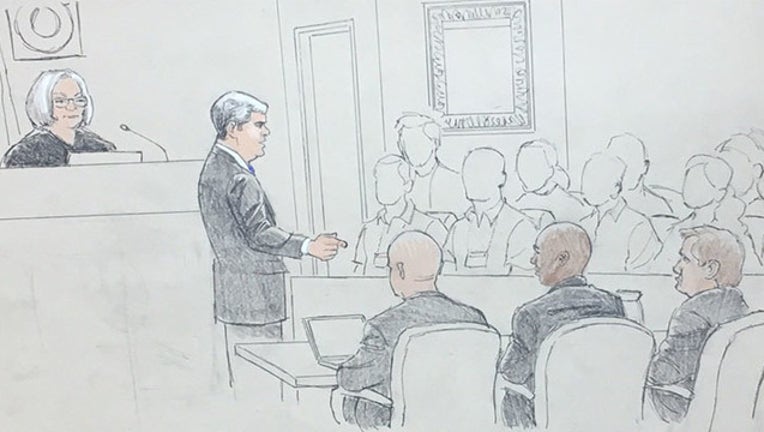 MINNEAPOLIS (FOX 9) - Attorneys on both sides presented their opening statements Tuesday morning in the trial of former Minneapolis police officer Mohamed Noor, who is charged with second-degree murder, third-degree murder and second-degree manslaughter in the shooting death of Justine Ruszczyk Damond in 2017. 
In his opening statement, assistant Hennepin County Attorney Patrick Lofton displayed a photo of Damond, saying she was barefoot and wearing only pajamas when Noor shot and killed her on July 15, 2017. She also had her gold iPhone with her at the time. 
Damond called 911 earlier that night to report a possible sexual assault in the alley behind her home in the Fulton neighborhood. Justine's fiancé, Don Damond, will be one of the first witnesses to testify in the case. Don was on the phone with Justine before she went outside. According to Lofton, her last words to him were, "Okay, police are here."
Lofton was critical of the Minnesota Bureau of Criminal Apprehension's initial investigation into the fatal shooting, questioning several of their actions and decisions. He blamed the BCA for starting the storyline that Noor was startled by a loud noise, like a slap or a thump, on the back of his squad car before firing his gun across his partner through the open window. 
During his opening statement, Noor's defense attorney Peter Wold reenacted the alleged incident with a dramatic thump on the defense table. He alleges Noor heard his partner, Harrity, yell "Oh Jesus," and feared an ambush.  
Wold walked through jurors through Noor's life from Somalia to a refugee camp in Kenya to Minnesota. He described the police department's ambush training and why Noor perceived that he and Harrity feared for their lives in that alley. 
"It was a perfect storm with horrible consequences," Wold told the court. 
Wold claims "context is critical" to understanding how Noor reacted in those split seconds, citing a vague call for help, a silent alley, a bicyclist that cut in front of the squad car, a sudden thump towards the back of the vehicle and then a shadowy figure at the window of the squad. 
Prosecutors appeared to doubt there was a sudden, startling noise that night, claiming there was no forensic evidence Justine touched Noor's squad car that night. 
Prosecutors have also identified the 16-year-old bicyclist who witnessed the aftermath of the shooting and captured some of his on his cell phone. He will also testify in the case.  
Witness testimony is expected to begin Tuesday afternoon.