No charges for Muslim student after clock mistaken for bomb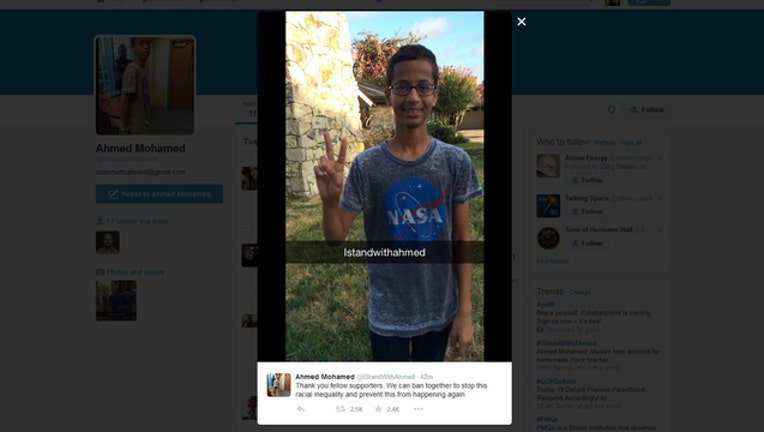 article
DALLAS (AP) — A 14-year-old Muslim student will face no criminal charges for taking a homemade clock to class that his suburban Dallas high school teachers thought resembled a bomb, the police chief said Wednesday.
Ahmed Mohamed will not be charged with possessing a hoax bomb because there's no evidence that the boy meant to cause alarm at his school in Irving, police Chief Larry Boyd said at a news conference.
Boyd said the clock that Ahmed built looked "suspicious in nature," but that he considers the case closed.
The teen explained to The Dallas Morning News that he makes his own radios, repairs his own go-kart and on Sunday spent about 20 minutes before bedtime assembling the clock using a circuit board, power supply wired to a digital display and other items.
On Monday, he wanted to show his work to his engineering teacher but was warned to keep the clock in his backpack. When it began beeping during another class, he brought it to that teacher's attention. Shortly afterward, Ahmed was pulled from class and questioned and searched by the principal and Irving officers.
He was then escorted from the school in handcuffs for further questioning by the police.
"We live in an age where you can't take things like that to school," Boyd said.
The boy's family says Ahmed was suspended for three days. It's not clear if he'll be allowed to return to school now that police have said he won't be charged.
School district spokeswoman Lesley Weaver declined to confirm the suspension, citing privacy laws.
The incident drew broad attention, with President Barack Obama inviting Ahmed to the White House.
In a tweet posted Wednesday, Obama called Ahmed's clock "cool" and said more kids should be inspired like him to enjoy science, because "it's what makes America great."
The hashtag #IStandWithAhmed was tweeted more than 450,000 times by early Wednesday afternoon.
Ahmed's father, Mohamed Elhassan Mohamed, earlier told the Morning News that his son "just wants to invent good things for mankind. But because his name is Mohamed and because of Sept. 11, I think my son got mistreated."
Weaver insisted school officials were concerned with student safety and not the boy's faith, while Boyd said "the reaction (to the clock) would have been the same regardless" of his religion.
Boyd said police have an "outstanding relationship" with the Muslim community in Irving and that he would meet the boy's father on Wednesday to address any concerns.
This spring, the city council endorsed one of several bills under discussion in the Texas Legislature that would forbid judges from rulings based on "foreign laws" — legislation opponents view as unnecessary and driven by anti-Muslim sentiment.
At a later council meeting, the turnout included some denouncing Islam. One woman declared "Sharia law is Islam, and Islam's goal is to immigrate, assimilate and annihilate." A man sitting in the audience shouted "That is offensive!" and was escorted out.
The Council on American-Islamic Relations is reviewing the action against Ahmed.
"This all raises a red flag for us: how Irving's government entities are operating in the current climate," Alia Salem, executive director of the council's North Texas chapter, told the Morning News.