Mugshot of police K-9 accused of 'stealing' officer's lunch goes viral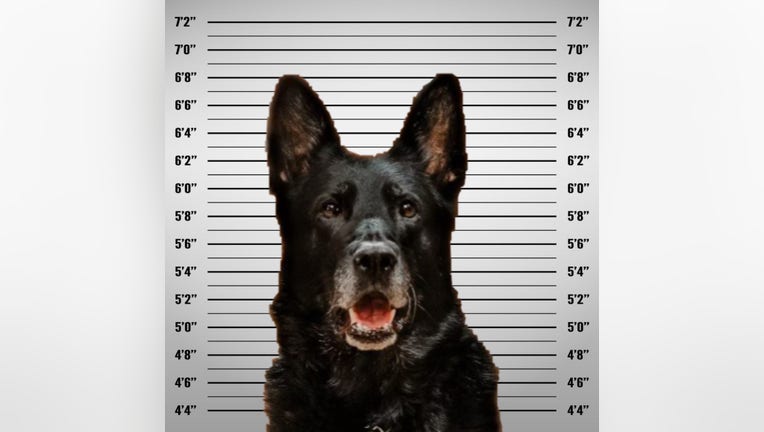 article
WYANDOTTE, Mich. - A criminal has never looked cuter.
A police K-9 in Michigan landed himself in the doghouse recently after being accused of stealing a co-worker's lunch! 
The Wyandotte Police Department posted a mugshot of K-9 Ice, looking shocked at the accusations against him. In a hilarious post that has now gone viral, the department says that an officer was eating lunch in the break room when he was called to assist with a person at the jail, leaving his half-eaten meal behind. 
When he returned, the officer reportedly found Ice "leisurely strolling out of the room licking his chops" – and the officer's lunch was gone!
"Stealing is not only a crime, but it is morally wrong too," the department joked. "Some jobs, like that of being a police officer, require you to take an oath prior to starting. Within the officer's sworn oath is the promise to protect person's property."
MORE NEWS: Florida K-9 Jax gets final radio sign-off as he retires after 8 years of service
Given the suspiciously satisfied look on Ice's face, he was immediately put under investigation for stealing. 
"Ofc. Ice has invoked his fifth amendment right to remain silent and quite frankly is not cooperating with the investigation. He has a history of rummaging through trash cans that are within his reach. There have been several other accusations of him taking food right from coworker's hands as they walk by."
The post racked up over 17,000 reactions and the public quickly jumped to the K-9's defense. 
"Sounds like circumstantial evidence," one person wrote. "He does not look guilty so thus must be presumed to be innocent."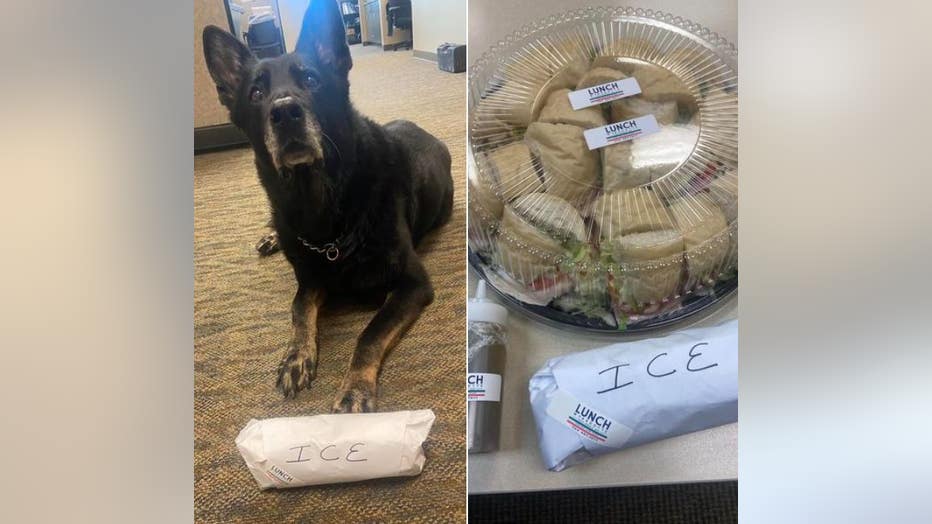 A supporter of K-9 Ice dropped off a sandwich and a tray of lunch to the officers after "charges" were dropped. (Credit: Wyandotte Police Dept.)
Another said, "I'll be this officers attorney pro bono if need be. If the teeth don't fit you must acquit."
MORE NEWS: Watch: Drone video captures the world's largest hatching of baby turtles
In a follow-up post, the Wyandotte Police Department joked that massive protests have been threatened if they move forward with its investigation or press charges against Ice.
"Plus the overall public just doesn't believe he is guilty. No video has been produced. That being said, Officer Ice will not face any internal discipline or criminal charges."
The public has spoken.