MN House votes to increase penalties for protesters blocking transportation routes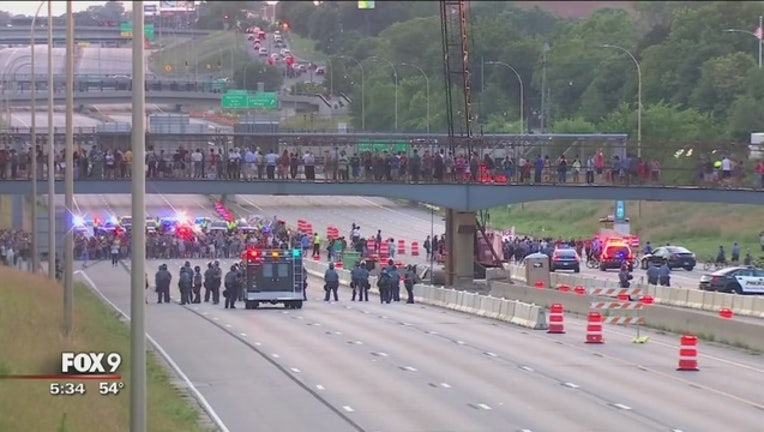 article
ST. PAUL, Minn. (KMSP) - The Minnesota House voted Monday night to increase penalties for protesters, just one part of a sweeping public safety finance bill.
After hours of debate, lawmakers voted on an amendment to remove the section on public protests from the bill, failing 56-75. The House later voted 94-37 to approve the entire bill.
The law makes blocking a freeway, airport, or rail line during a protest a gross misdemeanor.
"I want to start by pointing out the irony here, as we debating this bill that would further penalize protesters, that we sit in a building that sits on Rev. Dr. Martin Luther King Jr. Boulevard," said Rep. Jamie Becker-Finn, D-Roseville.
"We need to exercise extreme care when we're making laws against considering actions against people who annoy us rather than people who we fear," said Rep. John Lesch, D-St. Paul.
Those in favor of the bill argued it's not about stopping free speech, but simply keeping it from places that may stop police, fire trucks or ambulances.
"But that doesn't mean that exercising those rights they need to put the lives and livelihoods of others at risk," said Rep. Jim Knoblach, R-St. Cloud.
Both sides pointed out blocking freeways and other transportation is already illegal. Proponents hope upping the penalty gives the existing law more teeth.
"It is already against current law to block a freeway," said Rep. Nick Zerwas, R-Elk River. "Your first amendment rights do not extend to the center lane of I-94."
Opponents believe added penalties won't discourage protests, but this may be simply a first move against any display of dissent.
"And it's no coincidence that the trend of targeting protests is coming at the same time as the trend of people increasingly speaking up on behalf of their rights, many of them Minnesotans of color, immigrants, people who feel dispossessed," said Rep. Dave Pinto, D-St. Paul.
After the vote, the People of Color & Indigenous Caucus released the following statement:
"Instead of taking time to listen to the legitimate racial justice concerns of Minnesotans, Republicans instead chose to silence our voices. Criminalizing free speech is fundamentally un-American, and this anti-protest bill shamefully punishes any Minnesotan who dares to speak truth to power about the reality of racial inequality in our state.
"Peaceful protest and the freedom of speech serve as the foundation of American democracy. Today the POCI Caucus stood up for the First Amendment by voting as a bloc against this spiteful and discriminatory legislation. We call upon the conference committee to strip this language from the public safety bill."