Minnesotan Lindsey Vonn wins bronze in Olympic downhill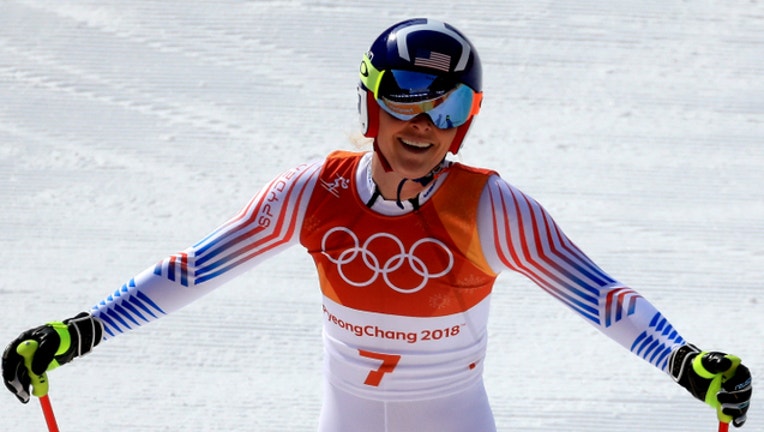 article
JEONGSEON, South Korea (AP) -- Lindsey Vonn cast a quick glance toward the sky after finishing what was likely her final Olympic downhill run, shrugged her shoulders at seeing her time and shook a friendly index finger at her good friend.
No one could catch Sofia Goggia of Italy.
Goggia won the women's downhill Wednesday at Jeongseon Alpine Center as Vonn earned bronze. The American was looking at a higher finish, before Ragnhild Mowinckel of Norway turned in a surprise silver-medal performance as the 19th racer on the course.
Then again, shocking finishes seem to be the norm on this hill. Ester Ledecka of Czech Republic made a late charge last week from back in the pack to take the super-G title. She skipped the downhill to step back into the snowboarding realm and will go through qualifying Thursday in the parallel giant slalom.
Goggia finished in a time of 1 minute, 39.22 seconds to hold off Mowinckel by 0.09 seconds. Vonn was 0.47 seconds behind Goggia.
At 33, Vonn becomes the oldest female medalist in Alpine skiing at the Winter Games. The record was held by Austria's Michaela Dorfmeister, who was just shy of her 33rd birthday when she won the downhill and the super-G at the 2006 Turin Olympics.
This particular track just seems to suit Goggia's aggressive skiing. She also edged Vonn in March to win the only World Cup downhill contested on the hill. 
Maybe mind games. Maybe a ploy. But each pointed to the other as the one to watch in the days leading up to the race. Goggia referred to Vonn as "definitely the favorite."
Goggia was behind at the top, but found another speed near the bottom. Vonn couldn't match it when she skied off two spots later.
This was Goggia's first gold at an Olympics or a world championships. She has four World Cup wins. 
Vonn has dedicated these Olympics to her grandfather, Don Kildow, who died in November. She wears his initials "DK" on the side of her helmet as a tribute.
The night before the race, she said on her Twitter account: "Tomorrow I will push out of the starting gate in what will most likely be my last Olympic Downhill race. I'm trying to enjoy the moment as much as I can and I am thankful to share this race with such amazing teammates. I know everyone expects a lot from me, and I expect even ... more of myself ... however there's only one thing I can guarantee; I will give everything I have tomorrow. Count on it."
Mikaela Shiffrin didn't race downhill because of the altered Olympic program. When the Alpine combined was moved a day forward to Thursday, Shiffrin elected to skip the downhill race rather than compete in back-to-back days. The combined adds the times of a downhill and one run of slalom, her specialist discipline.
On social media, she said: "This. Track. Is. So. Fun! Only slightly bummed I'm not skiing it today cause we have 4 girls who are ready to hammer down and I can't wait to watch!" 
American Alice McKennis finished fifth.