Minnesota weather: Light snow Wednesday; plowable snow possible Thursday-Friday
MINNEAPOLIS (FOX 9) - More snow is on the way for Minnesota this week, including the potential for plowable snow to end the work week. 
Here's a look at the forecast: 
Tuesday will be quiet and seasonable, with a high of 38 degrees and more melting. 
Snow will move into Minnesota Wednesday, dumping 2-4 inches of snow in northwestern Minnesota, which is under a winter weather advisory. The Twin Cities metro could see some light snow in the afternoon, with the area picking up a trace to an inch of snow heading into the evening commute. A high of 36 for the Twin Cities metro.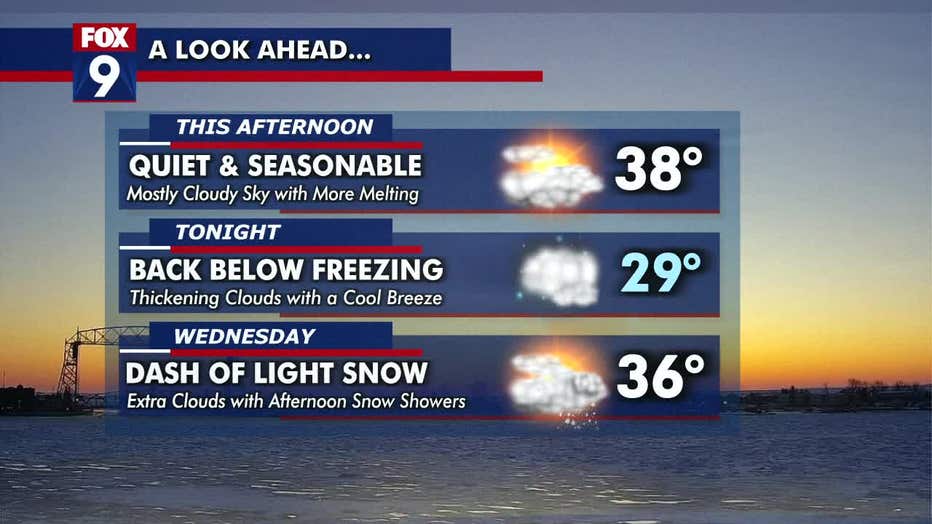 A dash of light snow is in the forecast for Wednesday.
Winter storm watch for Thursday-Friday
Then, a healthier, slow-moving system rolls our way bringing shovelable/plowable snow to the area Thursday afternoon into Friday morning's commute.
A winter storm watch is in effect from Thursday afternoon through Friday morning due to the potential for heavy snow in portions of central and southern Minnesota.
As it gets closer, more details on when and where the heaviest snow will fall will become more clear. Stay with FOX 9 and the FOX 9 weather app for the latest on your forecast. 
Quick clipper for the weekend
A quick clipper of light snow is possible Saturday night into Sunday morning. 
The good news? The sun will set at 7:15 p.m. on Sunday thanks to daylight saving time. 
Here's your seven-day forecast: