Minnesota students hold vigil for Chapel Hill murder victims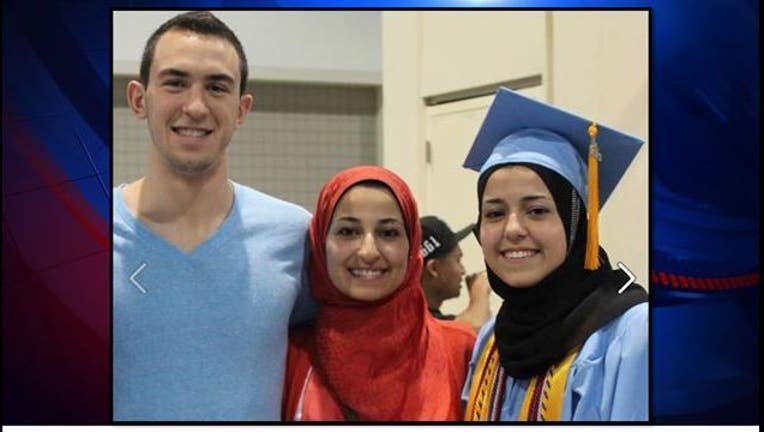 article
The University of Minnesota community is mourning the loss of three University of North Carolina students killed in an off-campus shooting Tuesday evening. A vigil will be held Wednesday night at the Al-Madinah Cultural Center inside Coffman Memorial Union.
The victims
Deah Shaddy Barakat, 23
Yusor Mohammad, 21
Razan Mohammad Abu-Salha, 19 
The suspect
Craig Stephen Hicks turned himself in to police early Wednesday morning. He was scheduled to be arraigned on three first-degree murder charges later Wednesday.
Police have not yet released a motive for the shooting, but early reports indicate an argument over parking at an apartment complex may have contributed. 

LOCAL REPORT - FBI now Investigating Chapel Hill Murders (WJZY-TV)?
U of M Muslim student group vigil
Vigil for Deah, Yusor, and Razan
Wednesday, Feb. 11 at 5:30 p.m.
Al-Madinah Cultural Center at Coffman Memorial Union

Prayer will be hosted in AMCC, followed by candlelight outside of the union
"We condemn the ignorance that spurred the attack on Deah Shaddy Barakat, Yusor Abu-Salha, and Razan Abu-Salha," representatives of Al-Madinah Cultural Center said in statement. "All three have been active locally and globally, from feeding the homeless in North Carolina to working on the refugee crisis surrounding Syria."
"As activists on campus responsible for raising awareness of Islamic cultures, we understand the necessity of raising awareness of Muslims and their lifestyles as a vehicle for the reduction of hate crimes, and we choose to make this statement based on this value."