Murder in Texas spurs Minnesota prosecutors to reopen 2018 shooting probe
GARFIELD, Minn. (FOX 9) - Prosecutors in northern Minnesota are taking a second look at a 2018 case in which a woman shot and killed her fiancé during a reported domestic disturbance after that woman was just recently indicted on murder charges in the death of her current husband in Texas.
In 2019, the Douglas County Attorney's Office decided not to move forward with charges against Sarah Donohue -- now Sarah Hartsfield – after she shot and killed her then-fiance David Bragg inside a home in Garfield, Minnesota. Prosecutors ultimately ruled the incident a self-defense shooting.
Deputies responded to a home in Garfield on May 9, 2018 for the report of a domestic disturbance during which shots were fired.
At the scene, they found Bragg dead inside the home. According to the letter from the Douglas County Attorney in 2019, Donohue had claimed that Bragg had assaulted her and fired shots at her on a staircase. She responded by shooting at him, killing him.
At the time, prosecutors said that evidence at the home seemed to support Donohue's version of events. "The facts reveal that Mr. Bragg discharged his firearm at Ms. Donohue from a close proximity while the two were engaged in an altercation that had become physical," wrote Douglas County Attorney Chad Larson. "Under the circumstances, Ms. Donohue was justified in shooting Mr. Bragg as a matter of self-defense as she was facing lethal force and had no reasonable possibility of retreating from the threat. Therefore, I am declining to file criminal charges against Ms. Donohue in relation to Mr. Bragg's death."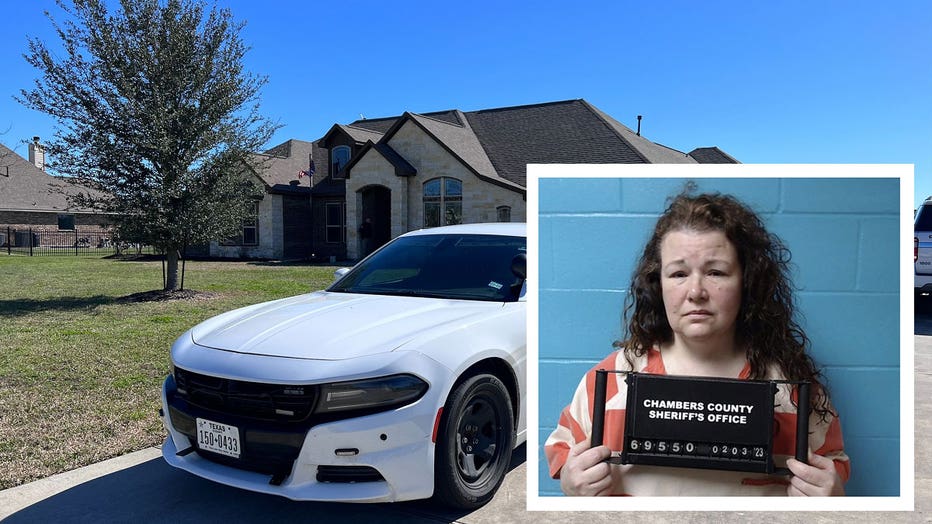 Sarah Hartsfield was indicted for murder in Chambers County, Texas. (Chambers County Sheriff's Office / Supplied)
However, that determination is under reexamination after Donohue is accused of killing another romantic partner, her current husband. This week, the Chambers County Sheriff's Office in Texas announced Donohue, who is now known as Sarah Hartsfield, was indicted on murder charges in the death of Joseph Hartsfield.
"I would say very unusual," said Chambers County Sheriff Brian Hawthorne. "I've been a law enforcement officer all my life, and so for the last ten years, I've been the sheriff of the county. It's definitely the first one like this."
The investigation into the Houston-area death started in January when deputies were called to a local hospital for a "suspicious illness" of an emergency room patient. Investigators say "inconsistencies, as well as other determining factors, made the illness appear more suspicious in nature."
Ultimately, the patient, identified as Joseph Hartsfield, died from circumstances that deputies say involved "foul play".
"I appreciate the hard work of the deputies and detectives who followed their instincts and identified the suspicious circumstances surrounding Mr. Hartsfield's death that could have been labeled as 'death due to illness' instead of murder," wrote Sheriff Hawthorne in a release.
After the death, Texas prosecutors say they were looking further into Donohue's past, which includes multiple names. Chambers County District Attorney Cheryl Swope Henry asked anyone with information on Sarah Hartsfield, who went by Sarah Smith, Sarah Knoernschild, Sarah Traxler, and Sarah George along with Sarah Donohue, to reach out to prosecutors.
"We're putting a puzzle together, and we need all the pieces," Henry said, adding she's never seen anything like this in her 30-year career. Sheriff Hawthorne agrees.
"I think there's I think there's probably a lot more going on with Sarah Hartfield than just this single incident or the two incidents," Sheriff Hawthorne says. "I feel like there's other things that we're revealing from other back past relationships. It may reveal other things about her."
With that, Minnesota prosecutors are also taking a second look at their case involving Donohue, adding they have new information on the 2018 shooting.
In a media release on Thursday, Douglas County Attorney Chad Larson wrote: "Our investigation is considered 'active' again because we are following up on new information that the Douglas County Sheriff's Office received on Tuesday regarding the 2018 shooting.  For that reason, we are unable to process data requests from the media and I am unable to comment further at this time pursuant to Minnesota law."