Nonprofit continues life-saving aid amidst Sudan conflict: 'They're showing up daily'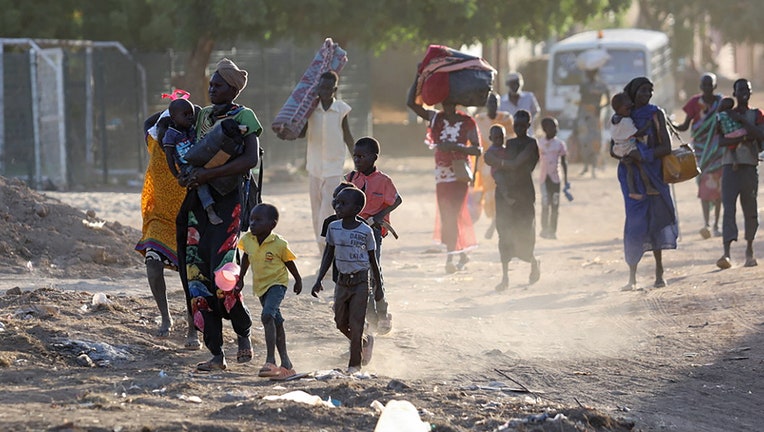 article
MINNEAPOLIS (FOX 9) - Despite the escalating armed conflict in Sudan, a Minnesota-based nonprofit remains active on the ground, its Sudanese staff risking their lives to provide essential aid to trapped civilians.
Alight, formerly known as The American Refugee Committee, swiftly evacuated 10 international staff and 22 Sudanese following the outbreak of violence between the Sudanese Armed Forces (SAF) and Rapid Support Forces (RSF) on April 15.
But as the humanitarian situation deteriorated over seven weeks of heavy fighting, more than 900 of the organization's Sudanese staffers continued their work across the county, helping internally displaced people fleeing the capital Khartoum, which has been the epicenter of the conflict. They focused their efforts on life-saving tasks such as ensuring food, shelter, healthcare, and sanitation for those in need.
"They're delivering babies, caring for children and women suffering from severe malnutrition. They're doing so much more… while their country is at war, they're showing up daily to serve others while caring for families the community, and their country," said Heidi Diedrich, Alight's outgoing Sudan executive director, in a video press conference last week.
Since April 15, Alight estimates that its staff has helped more than 150,000 people.
While no Alight staffers have been hurt, six Sudanese aid workers have been killed since the fighting started, Diedrich said. She says roughly 35 Alight employees are still stuck in Khartoum, sheltering in place. "We've tried many ways to get to them and there's not a safe passage right now."
Alight has joined the World Health Organization in calling on the parties to stop fighting and allow for humanitarian coordinators, so aid workers can move freely.
"For humanitarians to get into Khartoum and other conflict zones, to administer health care, administer food, water, and help bring those civilians that are caught in the crossfire to safety," she said.
Local push for peace
Locally, Kamal Elbasher, a Sudanese immigrant who has worked as an administrator at Metro State University for the last 16 years, has been one of the organizers of rallies and events calling for peace in Sudan, and raising money for aid efforts.
He says that he, along with the roughly 250 Sudanese families in the Twin Cities, has been profoundly shaken by the raw and sometimes graphic images emerging from the conflict: terrified civilians fleeing amidst the echo of automatic gunfire; a flaming tank on a city street; jets swooping low to launch their missiles; dozens seeking refuge on the floor of a bus station, sheltering from the chaos outside.
"I never even in my worst nightmares, imagined a war coming into our capital in the middle of Sudan and killing that many people in a few weeks," he said.
Elbasher says they don't want the U.S. or any other country to intervene, but they are calling on the U.S. and Europe to do more to pressure both forces to stop fighting.
"The number one thing we think we need to do is to stop the killing, and now. Not tomorrow, not in a month, it has to be stopped right now because only any moment we wait, there are people losing their lives."
An unfinished revolution 
Like many Sudanese, he sees the current conflict in the context of the Sudden revolution in 2018, when mass protests led to the overthrow of Al-Bashir, a dictator who ran the country for 30 years. The youth and woman-led push for democracy did not pan out the way the organizers had hoped, as the military eventually seized power. 
There were two notorious incidents when security forces opened fire on protests. In June 2019, the army stormed a protest camp and killed 118 people in the "Khartoum massacre," and then, the next month, RSF opened fire on a crowd of protesters, killing four and wounding 40.
And, historically, it's important to note that the RSF wasn't just deployed against protesters. It grew out of the Janjaweed militias that committed atrocities against civilians in the Darfur war. 
Now, as Elbasher sees it, the two most brutal instruments of Al-Bashir's rule: the army and the RSF, are fighting each other.
Still, he believes the push for democracy and civilian rule will ultimately win out in the end, however long it takes.
"We are getting to the bottom. And when you've gotten to the bottom of a well, there is no other way than to stand up again. And I hope that we are going to stand up again and get out of this big, huge well, and then we start a new Sudan. If not for us, at least for our kids," he said.