Minnesota councilman dons cape as 'Census Man' to promote upcoming count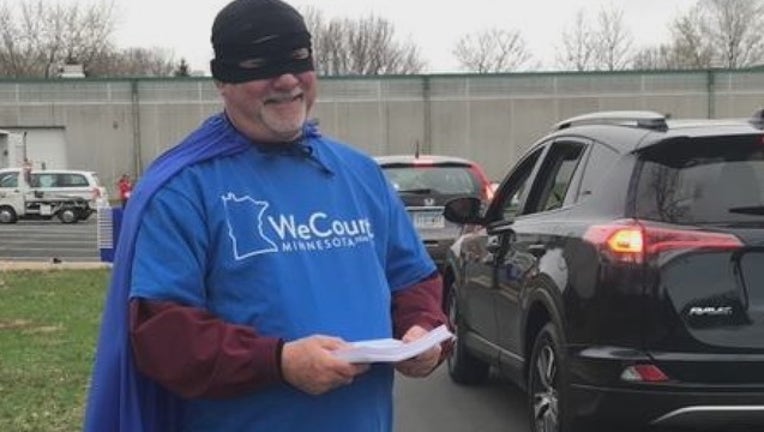 article
CIRCLE PINES, Minn. (FOX 9) - By day, he's a Circle Pines city councilman, but when the time comes to talk about the 2020 Census – Dean Goldberg assumes a new identity: Census Man.
Wearing a cape and mask, his mission is to make sure people get counted for the upcoming census.
"There's an interesting story behind Census Man, he was actually as a child, one of many kids who lived in a household and he was never counted, so he vowed as he grew older that no one would go uncounted," said Goldberg.
Census Man first made an appearance last month in Circle Pines to let the community know, the census is coming up in 2020 and there are real local benefits to filling it out.
"People loved it, they laughed they listened," said Goldberg. "We get money for our budget to keep taxes down, Centennial schools benefit and we get money from the state for roads that help us repair the major roads you drive on every day."
The census count is mandated by the U.S. Constitution every 10 years. Circle Pines fell just short of reaching the 5,000 mark in 2010. If they don't hit that number next year, they could lose out on state money for roads.
"Without those dollars, or if they went down, we'd have to cut services or we'd have to raise taxes," said Goldberg.
Those leading census operations at the state level love what Census Man is doing for the count. 
"I think it's absolutely terrific, like I said we have over 100 cities and counties that have agreed to do something with the census, we only have one Census Man," said Andrew Virden, the Minnesota director of census operations and engagement.
That super hero is especially important with so much at stake, including the number of congressional seats per state, so he won't stop his mission until everyone is counted.
"I think the census is very much like voting, it's our civic duty to do it," said Goldberg.
This year, the census will also be available online for some households, but everyone will still have access to a paper form. Those forms have not been printed yet as the Census Bureau is waiting on a decision by the Supreme Court as to whether a question about U.S. citizenship will be allowed on the 2020 Census.