Medals presented to widow of late MN World War II veteran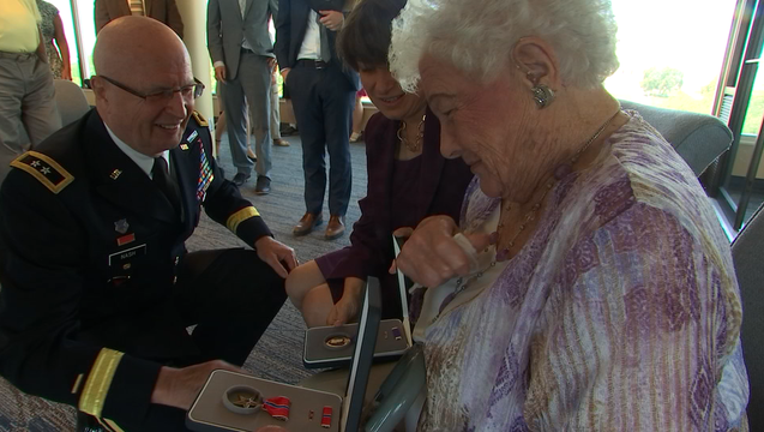 article
(KMSP) - A 94-year old Minnesota widow of a missing World War II soldier has been given a bronze star and a purple heart in his honor.

Catherine Tauer of Roseville received the medals from U.S. Senator Amy Klobuchar  in a ceremony on Thursday in St. Paul.

Her husband, Staff Sergeant Jerry Jacobsen, was last seen alive on a battlefield in France in 1944.  For more than 70 years, Tauer has been trying to find him.
In October of 2016, The Fox 9 Investigators first drew attention to the case after a story aired about Jacobson's remains possibly being located in an unmarked grave at a cemetery in Normandy. 
Independent researcher, Roberta Russo made the initial discovery of an old Army file which contained information about the grave Jacobsen was buried in.
After DNA testing, the Department of Defense confirmed it was Jacobson's remains.
"You guys were so good to me. I can't say enough. I just can't say enough for Channel 9," said Tauer.
The Defense POW/MIA Accounting Agency (DPAA) which is responsible for locating missing service members has been heavily criticized for operating at a sloth-like pace and keeping families in the dark. 
Klobuchar sent a letter to the Secretary of Defense, asking him to do something about it.
"Somehow these amateur researchers are able to track this down when our own defense department can't, it doesn't make a lot of sense to me. So I think they need to up their game," said Klobuchar.
According to Klobuchar's office, the agency identified 164 service members, 36 fewer than mandated by law.
Staff Sergeant Jacobsen's remains will be returned to Minnesota next week for burial at Fort Snelling National Cemetery in Minneapolis.
Click below to see the previous Fox 9 Investigator stories on Staff Sergeant Jerry Jacobson:
Gov't inaction leaves 93-year old war widow desperate for answers.
http://www.fox9.com/news/investigators/214070684-story
Widow fears she won't live to see husband buried in MN
http://www.fox9.com/news/investigators/248443905-story
72 years later, a proper burial for WWII soldier
http://www.fox9.com/news/262278448-story