Mattel and Hasbro team up for co-branded toys featuring Barbie, Transformers, Hot Wheels
Hasbro and Mattel have joined forces to create co-branded toys and games, the companies announced Monday. 
According to Mattel, the two global toy companies have entered into multi-year licensing agreements to develop items from some of their most popular brands including Barbie, Transformers, Hot Wheels and UNO. 
Some of the toys and games expected to launch later this year include Barbie-branded Monopoly games and Transformer-branded UNO games. Transformer-branded Hot Wheels vehicles are set to debut in early 2024. 
"We are excited to pair some of the most popular brands together for the first time," Nick Karamanos, senior vice president of entertainment partnerships at Mattel, said in a press release. "This collaboration features world-class IP, celebrates the timeless appeal of these brands, and creates unique play opportunities for fans."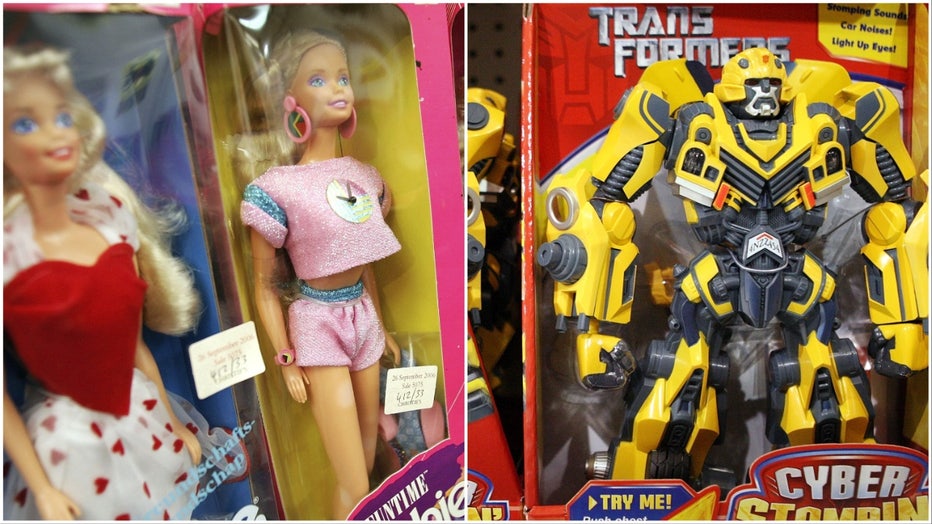 Pink boxes of barbie dolls lie at Christies South Kensington as part of a collection of 4,000 barbie dolls that will be auctioned today on September 26, 2006 in London, England. The collection is the biggest in private hands to be auctioned. (Photo b
This collaboration announcement comes as two major theatrical releases are set to be released this summer: "Transformers: Rise of the Beasts" and Mattel's "Barbie." 
RELATED: Mattel launches 'My First Barbie,' a taller doll for preschoolers
"With the major theatrical releases of the 'Transformers' and 'Barbie' movies in summer 2023, we're excited to bring brand-new play experiences to fans, families, and movie and toy lovers all around the world," said Casey Collins, the president of global licensed consumer products and business development. "Working with iconic brands in pop culture truly showcases our strategy in action, as we continue to expand our product experiences for audiences everywhere."
Mattel relaunches Barney franchise
In February, Mattel announced it would relaunch the Barney franchise — made popular in the early 1990s — with a revitalization of the brand. 
The company said it will develop television, film, music and YouTube content, along with a large range of kids' products including toys, books, clothing, and more. Apparel and accessories for adult fans, featuring the classic Barney, are also in the works.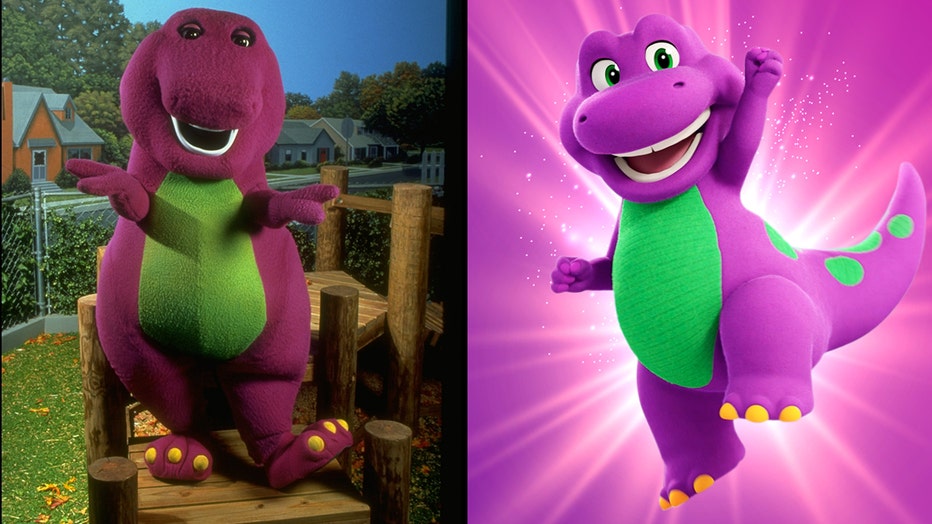 Barney, the purple dinosaur, in scene fr. (The Lyons Group) PBS TV series Barney & Friends. (Credit: Mark Perlstein/Getty Images)
"Barney's message of love and kindness has stood the test of time," Josh Silverman, Mattel's chief franchise officer and global head of consumer products, said in a statement. "We will tap into the nostalgia of the generations who grew up with Barney, now parents themselves, and introduce the iconic purple dinosaur to a new generation of kids and families around the world across content, products, and experiences."
Mattel is a large toy company and owner of a large catalog of children and family entertainment franchises including Fisher-Price, American Girl and Thomas & Friends.
Hasbro is a global branded entertainment company with gaming, consumer products and entertainment including Magic: The Gathering, Dungeons & Dragons, Nerf, Play-Doh and Peppa Pig.
This story was reported from Los Angeles.