Massachusetts jewelry store under fire for 'take a knee' billboard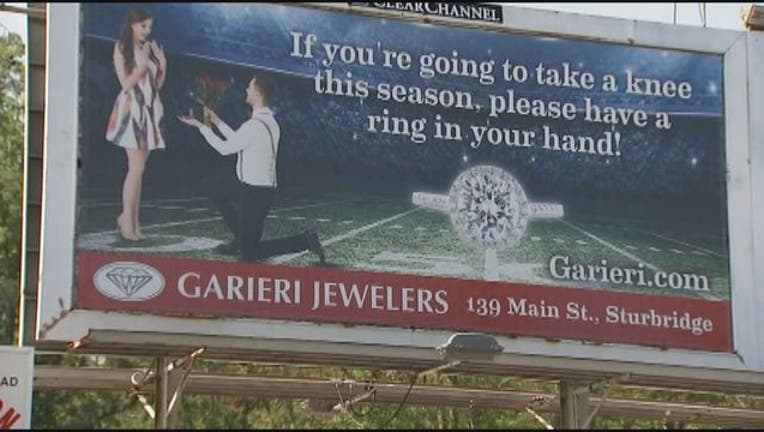 article
STURBRIDGE, Mass. (FoxNews.com) - A jewelry store in Massachusetts has come under fire after their billboard showing a man proposing to a woman on the football field was called racist.
The billboard advertising Garieri Jewelers in Sturbridge, Mass., reads: "If you're going to take a knee this season, please have a ring in your hand!" The billboard, which was located on Route 20 in Charlton, was set up on Saturday.
Scott Garieri, the owner of the store, said the advertisement was meant to be "attention-getting" and was a "play on words" regarding NFL players kneeling during the national anthem. Former San Francisco 49ers quarterback Colin Kaepernick started kneeling during the national anthem to protest police brutality, racial inequality and other issues. President Trump has been a vocal critic of the protests. 
"It was intended to be attention-getting," Garieri told Boston 25 News.
"The way that the football season was, everyone had a thing about taking the knee," he told the Washington Post.
He said the reactions to the billboard were at first positive until one driver, traveling down Route 20, took a picture of it and posted it on Facebook, calling it racist.