Maryland, DC attorneys general plan lawsuit against Trump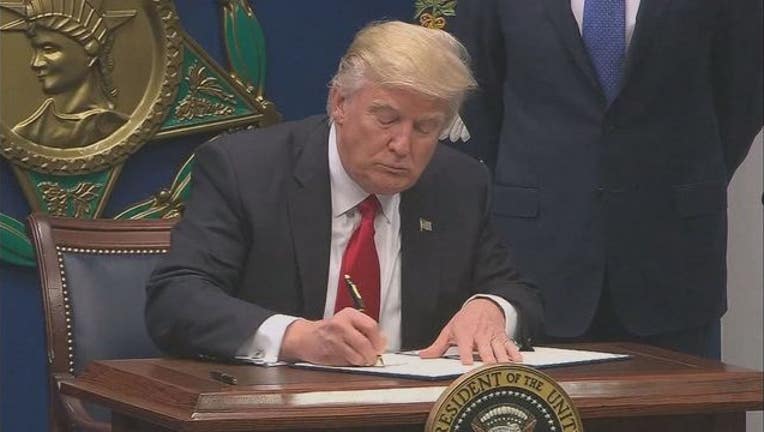 article
The attorneys general of Maryland and the District of Columbia say they will sue Donald Trump on Monday, alleging he has violated the Constitution by taking payments from foreign governments as president.
Maryland Attorney General Brian Frosh outlined details of the lawsuit in an interview with The Associated Press. Much of it is focused on alleged violations of the emoluments clause of the Constitution, based on Trump's real estate holdings. The clause prohibits the president and other government employees from accepting foreign gifts and payments without congressional approval.
The Trump Hotel in the nation's capital affects business in the Washington area and is part of the reason the lawsuit was filed by officials in the District of Columbia and Maryland, Frosh said.
"We have economic interests that are impacted, but the most salient factor is that when the president is subject to foreign influence, we have to be concerned about whether the actions he's taking - both at home and abroad - are the result of payments that he is receiving at the Trump Hotel, payments that he is receiving at Mar-a-Lago, payments that he is receiving at Trump Tower, payments that he is receiving in all of his other far-flung enterprises, and he brags about it," Frosh said.
Frosh and District of Columbia Attorney General Karl Racine have scheduled a news conference Monday to announce the lawsuit.
The lawsuit also focuses on the fact that Trump chose to retain ownership of his company when he became president. Trump said he was shifting assets into a trust managed by his sons to eliminate potential conflicts of interests.
The White House did not immediately respond to requests for comment Monday. The president called an earlier, similar lawsuit about the emoluments issue "without merit, totally without merit."
If a federal judge allows the case to proceed, Racine and Frosh say they will demand copies of Trump's personal tax returns in court to gauge the extent of his foreign business dealings.
Trump's unique status as both president and the financial beneficiary of his global business empire raised questions about the little-known emoluments clause of the Constitution even before he took office. Trump and his attorneys argue the clause does not cover fair-value transactions, such as hotel room payments and real estate sales.
The attorneys general aren't the first to sue Trump over emoluments. Just days after Trump's inauguration in January, the government watchdog Citizens for Responsibility and Ethics in Washington filed a federal lawsuit in the Southern District of New York. Since then, a restaurant group and two individuals in the hotel industry have joined as plaintiffs.
The Justice Department said Friday that those plaintiffs did not suffer in any way and had no standing to sue, and that it is unconstitutional to sue the president in his official capacity.
Associated Press writer Julie Bykowicz contributed to this report in Washington.