Lush Cosmetics supports workers who participated in Mall of America protest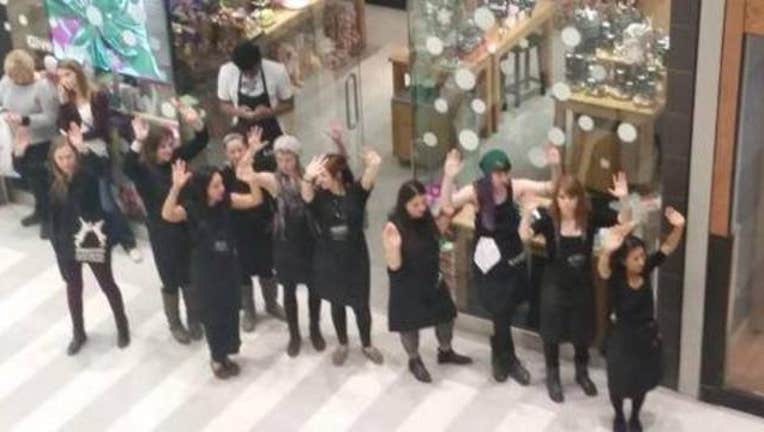 article
UPDATE AT BOTTOM -
One of the memorable images from Saturday's Black Lives Matter anti-police brutality protest at the Mall of America was of Lush Cosmetics employees showing their solidarity with protesters.
According to Chase Burns, an assistant manager at the handmade cosmetics business's MOA location, there didn't happen to be any shoppers in the store when protesters starting gathering en masse in nearby rotunda area.
See also: The Black Lives Matter case that Mall of America isn't private property
At that point, about 15 employees made a spontaneous choice to use their break time to show solidarity. Here are a couple of the ensuing images:
For example, consider this post from Mark Sherwood:
Politics and business should not mix!! The picture of your employees promoting your politics will keep me from spending money there or telling people to go there!! You support people who like to not listen to the law, damage property, thats great!! I hope things work out for you!!
Another post, this one written by a James Helms, was posted on Lush's corporate page (Lush is a worldwide business based out of Canada):
Just wanted to ensure that the corporation and or owners were aware that their employees at the Mall of America joined in with the protesters yesterday and scared my children at build-a-bear across the hall that they didn't even want to walk by your store on the way out of the mall. I am not sure what your policy is but I know we were in lock down and all stores were supposed to be shuttered when out pop all 5 or so of your employees with signs and chants. I believe in freedom of speech and have fought for it while serving my country. But to allow your employees to join in this act of terrorism while working is shameful and should be addressed at your earliest convenience.
Lush responded directly to James's post:
LUSH Cosmetics Response:
Hi James, thanks so much for getting in touch. While the employees were not acting officially for the company, we are a campaigning company, and we support the right to free speech and peaceful protest. Standing in solidarity of fairness, justice and equality for all, regardless of gender, race, age, sexuality, and religion - this is something that as a business we do wholeheartedly believe in.
- Laura
Reached for comment this afternoon, Burns says, "All the employees ended up just kinda spontaneously going out and supporting it -- we hadn't talked about joining in advance."
"Many employees thought that a lot of the other shops around would be going out and also showing support, so they were surprised they were the only ones out there," he continues. "Everybody was acting as an individual, but Lush tends to employ a lot of activists."
Though the company has officially taken part in a number of campaigns in recent years -- Burns mentioned anti-fur trading and anti-"don't ask, don't tell" ones specifically -- Lush isn't officially involved with Black Lives Matter.
"Black Lives Matter is not in any way a Lush-sponsored thing, but [Lush corporate] is supporting the employees in the decision to act as individuals during the protest," Burns says.
In addition to all the praise and appreciation Lush has been receiving on Facebook in recent days, Burns says he's also heard from shoppers who were motivated to spend money at the store in the wake of Saturday's protest.
"Someone came in a few hours earlier, a public school teacher in Minneapolis, and she came in specifically to thank us and wanted to buy products here," Burns says. "A lot of her students have been dealing with these issues with police brutality. Another guy drove three hours to do all his Christmas shopping here."
On the flipside, Burns says Lush's MOA store has also gotten calls from people who, like Sherwood and Helms, are upset by employees' participation in the protest.
Ultimately, however, it was employees' personal beliefs about right and wrong, not the business's bottom line, that motivated their showing of support for Black Lives Matter, Burns says.
:::: UPDATE ::::
Brandi Halls, director of brand communications for Lush, provided the following responses to questions we sent her via email.
Fox 9: Were the actions of the employees sanctioned by Lush? Or simply organized by the workers themselves?
Halls: During the peaceful protest at Mall of America on Saturday, LUSH employees acted with respect and in full accordance with law enforcement, ensuring first and foremost that our staff and customers were safe and taken care of. Due to the protest happening in the mall, our shop was closed and staff were asked to stay within our lease line, which again they did in accordance with that request. While not acting in any official LUSH capacity or as part of the organized protest, a few LUSH employees did, as individuals, raise their hands in solidarity of fairness and equality for all.
Fox 9: We'd also love to hear more about the company's support for social campaigns and freedoms across the globe.
Halls: At LUSH we are and always have been a campaigning company, we support the right to free speech and peaceful protest and as result we attract and employ individuals who are passionate about many issues. Thanks to our loyal staff in stores across the globe, we have a unique platform to create positive change in the world. Together we have challenged the cosmetics industry on animal testing and over-packaging, we have campaigned against the cruel and unnecessary fur industry and we stand in support of the Freedom to Marry just to name a few.
Photo credits: Barton Werness and Roxy White on Facebook
Paul Blume contributed to this report