Legislators agree to hire law firm to sue Gov. Dayton over funding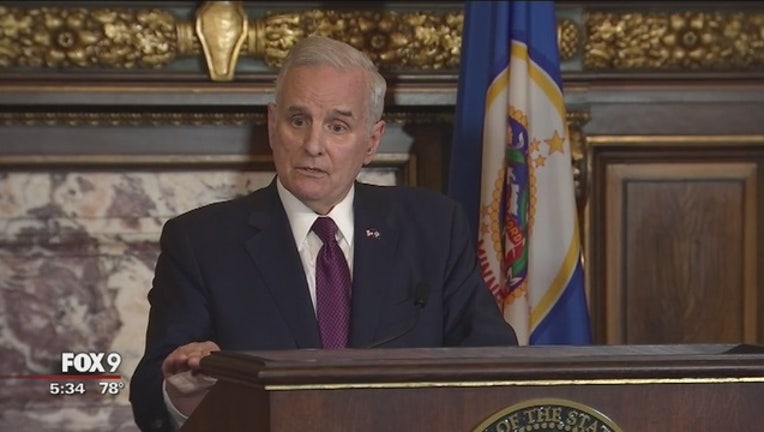 article
ST. PAUL, Minn. (KMSP) - Minnesota legislators voted Friday to hire an outside law firm to sue Gov. Mark Dayton after he eliminated the funding for the state Legislature.
Earlier this week, Dayton used his line-item veto authority to cut all funding for the House and the Senate, effective July 1. He's using the vetoes as leverage to bring the Legislature back into special session to reconsider five tax and policy provisions in the budget bills.
But, the Republican-controlled Legislature believes the vetoes are unconstitutional.
At the legislative coordinating commission on Friday, House minority leader Melissa Hortman argued that Republican leaders should try negotiating with the governor first before filing a lawsuit.
"What the governor has done by defunding the Legislature, he didn't dissolve the Legislature," Hortman said. "Let's not engage in hyperbole. He defunded us. We're perfectly capable of meeting and not getting paid."  
Still, the commission voted 7-3 to hire the law firm of Kelley, Wolter and Scott.
After the vote, House Speaker Kurt Daudt said he would rather not go to court.
"We still hope the governor will agree to resolve this in a way that doesn't involve the courts and I think there are multiple ways that could happen," Daudt said. "I think he could rescind those line-item vetoes. I think he could immediately call us back to override his vetoes and restore the legislative funding, the minority parties would have to agree to that to override a veto."
Senate majority leader Paul Gazelka says the Senate has enough money in reserves to keep operating until August. But, if the funding issue is not resolved, leaders say about 500 legislative workers at the capitol will get laid off.