Lake Calhoun-Bde Maka Ska sign vandalized after Park Board vote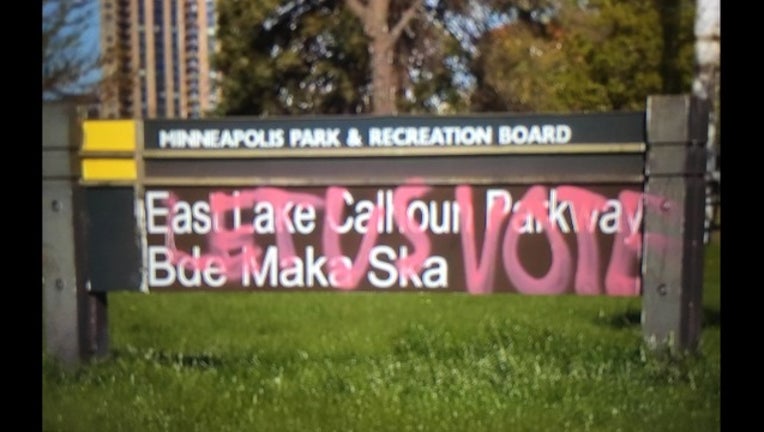 article
MINNEAPOLIS (KMSP) - A Minneapolis Park and Recreation Board sign marking East Lake Calhoun Parkway and its Dakota name, Bde Maka Ska, was vandalized following the board's vote Wednesday night to change the name of Lake Calhoun to BdeMaka Ska. The vandalized sign said, "Let us vote" on one side and "It's our community on the opposite side."
In 2015, the park board agreed to change the signs around Lake Calhoun to also include the Dakota name Bde Maka Ska, which means "Lake White Earth." But, there is still a push by some to drop the name "Calhoun" altogether.
Lake Calhoun is named after John C. Calhoun, the vice president and secretary of war who authorized the building of Fort Snelling in the early 1800s. But, Calhoun is also a controversial figure. He was the author of the Indian Removal Act and a supporter of slavery, which has some residents and Native American groups upset with the history over the lake's namesake.
The MPRB doesn't have the authority to stop calling it Lake Calhoun. The name change still needs to be approved by the Hennepin County Board of Commissioners and the Minnesota Department of Natural Resources. The DNR would then need to submit the change to United States Board on Geographic Names for final approval.
The names of Calhoun Parkway, East Calhoun Parkway and West Calhoun Parkway will not be changed.