Biden reveals Jimmy Carter asked him to deliver his eulogy
PLAINS, Ga. - Former President Jimmy Carter has reportedly asked President Joe Biden to deliver his eulogy after his death.
CNN reports that Biden told supporters at a fundraising event in Rancho Santa Fe, California that he has recently spent time with the Georgia native and 39th president.
"He asked me to do his eulogy – excuse me, I shouldn't say that," Biden said. 
In February, the Carter Center announced that Carter, who at 98 years old is the longest-lived American president, had entered home hospice care in Plains, Georgia.
BEFORE HE WAS PRESIDENT, JIMMY CARTER SAVED NUCLEAR REACTOR AFTER MELTDOWN
After a series of short hospital stays, the statement said, Carter "decided to spend his remaining time at home with his family and receive hospice care instead of additional medical intervention."
The Georgia politician has had multiple health scares in the last few years. In 2019, he was treated for a urinary tract infection less than a month after a successful brain surgery at Emory University Hospital. The former president underwent a procedure to relieve pressure on his brain from a subdural hematoma, which was caused a series of falls.
He was diagnosed with cancer in early 2015 after undergoing liver surgery, and his cancer would later spread to other parts of his body. Carter told his Sunday school class in December of that year that he was no longer suffering from cancer.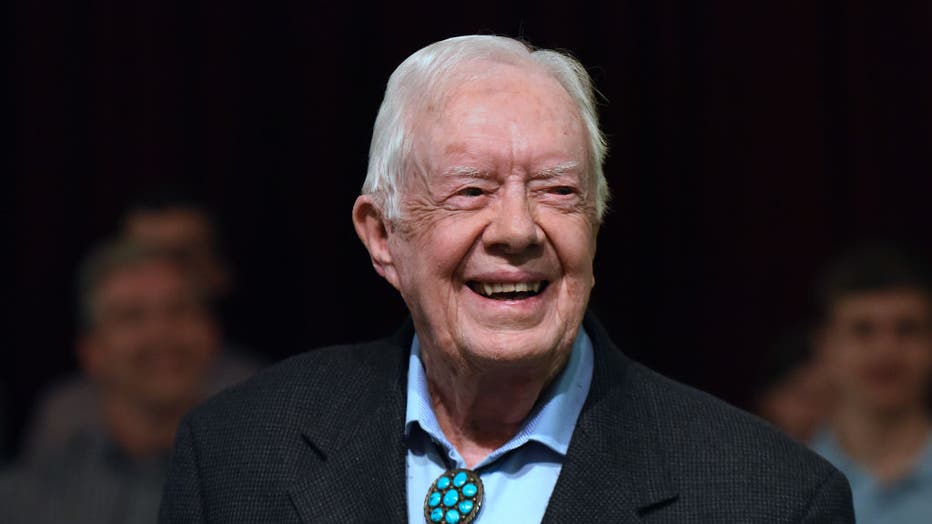 Former U.S. President Jimmy Carter speaks to the congregation at Maranatha Baptist Church before teaching Sunday school in his hometown of Plains, Georgia on April 28, 2019. (Photo by Paul Hennessy/NurPhoto via Getty Images)
In his speech, Biden said that time has "finally caught up with" Carter, but said "they found a way to keep him going for a lot longer than they anticipated, because they found a breakthrough."
JIMMY CARTER'S BELOVED TOOL BELT A GIFT FROM PEACHTREE CITY, FORMER MAYOR SAYS
Biden last saw Carter in 2021, when he traveled to Georgia for his 100th day in office.