Trump says 'illegal leaks' indicate he'll be arrested Tuesday, calls for protest
Donald Trump claimed on Saturday that his arrest was imminent and issued an extraordinary call for his supporters to protest as a New York grand jury investigates hush money payments to women who alleged sexual encounters with the former president.
Despite no evidence that Manhattan prosecutors have given any official notice to him or his lawyers, Trump declared in a post on his social media platform that he expected to be taken into custody on Tuesday. The message seemed designed to preempt a formal announcement from prosecutors and to galvanize outrage from his base of supporters in advance of widely anticipated charges. Within hours, he sent a fundraising email to supporters while influential Republicans in Congress issued statements in his defense.
In its direct encouragement of protest, and his capital letter demand to "TAKE OUR NATION BACK!" the post evoked in foreboding ways the rhetoric he used shortly before the insurrection at the U.S. Capitol on Jan. 6, 2021. After hearing from the then-president at a Washington rally that morning, his supporters marched to the Capitol and tried to stop the congressional certification of Democrat Joe Biden's White House victory, breaking through doors and windows of the building and leaving officers beaten and bloodied.
District Attorney Alvin Bragg is thought to be eyeing charges in the hush money investigation, and recently offered Trump a chance to testify before the grand jury. Local law enforcement officials are bracing for the public safety ramifications of an unprecedented prosecution of a former American president.
But there has been no public announcement of any time frame for the grand jury's secret work in the case. At least one additional witness is expected to testify, further indicating that no vote to indict has yet been taken, according to a person familiar with the investigation who was not authorized to publicly discuss the case and spoke on condition of anonymity.
That did not stop Trump from taking to his social media platform to say "illegal leaks" from Bragg's office indicate that "THE FAR & AWAY LEADING REPUBLICAN CANDIDATE & FORMER PRESIDENT OF THE UNITED STATES OF AMERICA, WILL BE ARRESTED ON TUESDAY OF NEXT WEEK."
A spokesperson and a lawyer for Trump said his Truth Social post was based on media reports rather than any actual update from, or communication with, prosecutors. The district attorney's office declined to comment Saturday.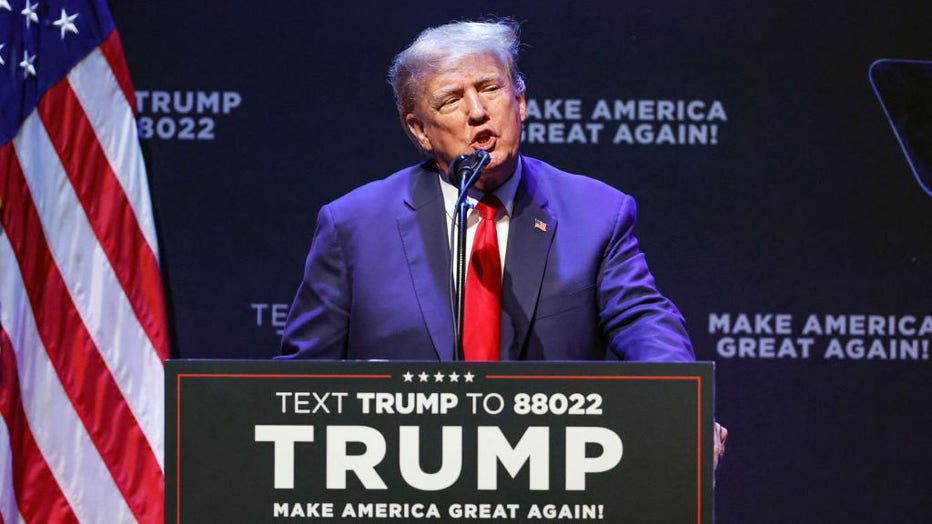 Former U.S. President Donald Trump speaks about education policy at the Adler Theatre in Davenport, Iowa on March 13, 2023. (Photo by Kamil Krzaczynski/AFP via Getty Images)
Should Trump be indicted, he would be arrested only if he refused to surrender. Trump's lawyers have previously said he would follow normal procedure, meaning he would likely agree to surrender at a New York Police Department precinct or directly to Bragg's office.
It is unclear whether Trump's supporters would heed his protest call. Trump's posts on Truth Social generally receive far less attention than he used to get on Twitter, but he maintains a deeply loyal base. The aftermath of the Jan. 6 riot, in which hundreds of Trump loyalists were arrested and prosecuted in federal court, may also have dampened the passion among supporters for violent action.
RELATED: Manhattan DA's office 'asked for a meeting' with law enforcement ahead of possible Trump indictment
The indictment of Trump, 76, would be an extraordinary development after years of investigations into his business, political and personal dealings.
Even as Trump pursues his 2024 bid for the White House — his first rally is set for Waco, Texas, later this month and he was scheduled to make a public appearance Saturday evening at the NCAA Division I wrestling championships in Tulsa, Oklahoma — there is no question an indictment would be a distraction and give fodder to opponents and critics tired of the legal scandals that have long enveloped him.
In addition to the hush money probe in New York, Trump faces separate criminal investigations in Atlanta and Washington over his efforts to undo the results of the 2020 election.
A Justice Department special counsel has also been presenting evidence before a grand jury investigating Trump's possession of hundreds of classified documents at his Florida estate. It is not clear when those investigations will end or whether they might result in criminal charges, but they will continue regardless of what happens in New York, underscoring the ongoing gravity – and broad geographic scope – of the legal challenges confronting the former president.
Trump's post Saturday echoes one made last summer when he broke the news on Truth Social that the FBI was searching his home as part of an investigation into the possible mishandling of classified documents.
News of that search sparked a flood of contributions to Trump's political operation, and on Saturday, Trump sent out a fundraising email to his supporters that said the "MANHATTAN D.A. COULD BE CLOSE TO CHARGING TRUMP."
After his post, Republican House Speaker Kevin McCarthy decried any plans to prosecute Trump as an "outrageous abuse of power by a radical DA" whom he claimed was pursuing "political vengeance." Rep. Elise Stefanik, the third-ranking House Republican, issued a statement with a similar sentiment.
The grand jury in Manhattan has been hearing from witnesses, including former Trump lawyer Michael Cohen, who says he orchestrated payments in 2016 to two women to silence them about sexual encounters they said they had with Trump a decade earlier.
Trump denies the encounters occurred, says he did nothing wrong and has cast the investigation as a "witch hunt" by a Democratic prosecutor bent on sabotaging the Republican's 2024 campaign. Trump also has labeled Bragg, who is Black, a "racist" and has accused the prosecutor of letting crime in the city run amok while he has focused on Trump. New York remains one of the safest cities in the country.
RELATED: Stormy Daniels meets with prosecutors investigating Donald Trump
Bragg's office has apparently been examining whether any state laws were broken in connection with the payments or the way Trump's company compensated Cohen for his work to keep the women's allegations quiet.
Porn actor Stormy Daniels and at least two former Trump aides — onetime political adviser Kellyanne Conway and former spokesperson Hope Hicks — are among witnesses who have met with prosecutors in recent weeks.
Cohen has said that at Trump's direction, he arranged payments totaling $280,000 to porn actor Stormy Daniels and Playboy model Karen McDougal. According to Cohen, the payouts were to buy their silence about Trump, who was then in the thick of his first presidential campaign. 
Cohen and federal prosecutors said Trump's company paid him $420,000 as reimbursement for the $130,000 payment to Daniels and to cover bonuses and other supposed expenses. The company classified those payments internally as legal expenses. The $150,000 payment to McDougal was made by the then-publisher of the supermarket tabloid National Enquirer, which kept her story from coming to light.
Federal prosecutors agreed not to prosecute the Enquirer's corporate parent in exchange for its cooperation in a campaign finance investigation that led to charges against Cohen in 2018. Prosecutors said the payments to Daniels and McDougal amounted to impermissible, unrecorded gifts to Trump's election effort.
Cohen pleaded guilty, served prison time and was disbarred. Federal prosecutors never charged Trump with any crime.
News that law enforcement agencies were preparing for a possible indictment was first reported by NBC News.
___
Associated Press writer Meg Kinnard in Columbia, South Carolina, contributed to this report.