Idaho murders suspect Bryan Kohberger will challenge evidence, lawyer says
MOSCOW, Idaho - Bryan Kohberger returned to an Idaho courtroom Thursday and said through his attorney that he plans to challenge the evidence against him at a preliminary hearing.
Kohberger, 28, wearing an orange jail-issue jumpsuit, had a slouch in his walk as he entered the Latah County courtroom one week after he was ordered held without bond for the murders of four University of Idaho students, FOX News reports.
The 28-year-old criminology Ph.D. student waived his right to a speedy preliminary hearing.
Magistrate Judge Megan Marshall explained to Kohberger that he was only waiving his right to have the hearing within 14 days.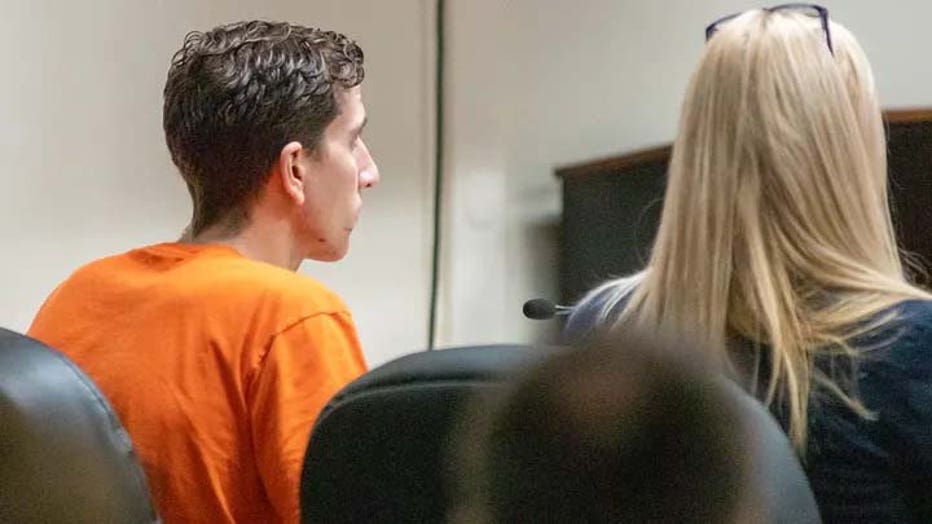 Bryan Kohberger, with small cuts visible on his face, listens during a status hearing in Moscow, Idaho, on Thursday. The accused murderer waived his right to a quick preliminary hearing and will appear in court again on June 26. (Kai Eiselein/Pool/Ne
"Do you understand?" she asked.
"Yes," he said, as he leaned forward on his elbows. It was one of several questions he answered from his seat.
RELATED: Idaho murders: Veteran defense attorney lays out case Bryan Kohberger team could make, 'holes' in affidavit
Kootenai County Public Defender Anne Taylor reasoned that waiving the 14-day deadline would give her more time to review the evidence obtained through discovery, which she filed a request for on Tuesday, according to court records.
Bill Thompson, the Latah County prosecutor, said he had no objections to pushing back the proceeding.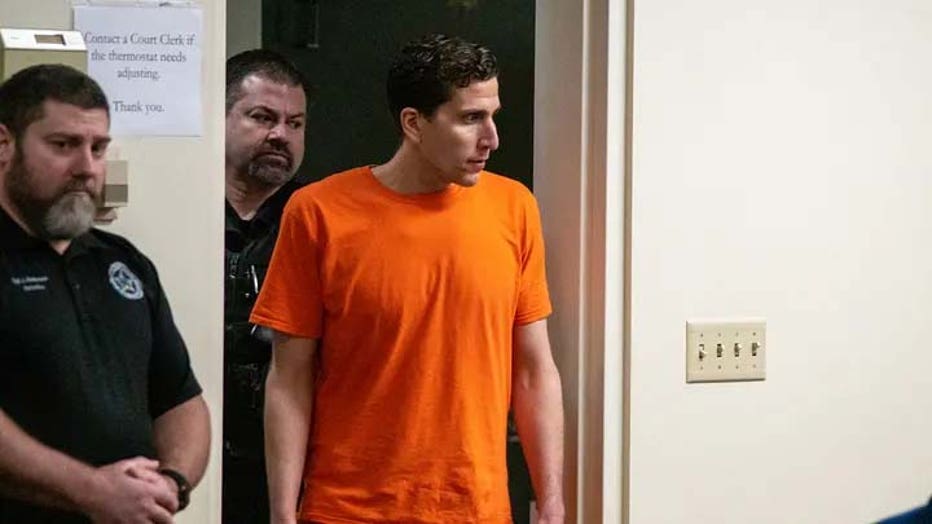 Bryan Kohberger enters a courtroom in Moscow, Idaho, on Thursday for a status hearing. The accused murderer waived his right to a quick preliminary hearing and will appear in court again on June 26. (Kai Eiselein/Pool)
The judge scheduled the preliminary hearing for June 26 at 9 a.m., which is expected to last five days.
Both sides are expected to call witnesses and present evidence. The judge will decide whether there is enough probable cause for the case to advance to district court.
As part of the June proceedings, the surviving housemate who allegedly witnessed a masked man with "bushy eyebrows" leaving after the murders could testify in court.
Identified in court documents only as 'DM,' she was frozen with fear during the encounter and locked her bedroom door, according to police.
The brief proceeding in front of a packed courtroom lasted less than 10 minutes. Before Kohberger left, he was pictured with several cuts on his face, which the sheriff said came from shaving.
ALSO READ: Bryan Kohberger case: Why didn't Idaho roommate call 911 after encountering masked madman?
Kohberger faces four counts of first-degree murder and a felony burglary charge for the Nov. 13 stabbing deaths of Madison Mogen, 21; Kaylee Goncalves, 21; Xana Kernodle, 20; and Ethan Chapin, 20.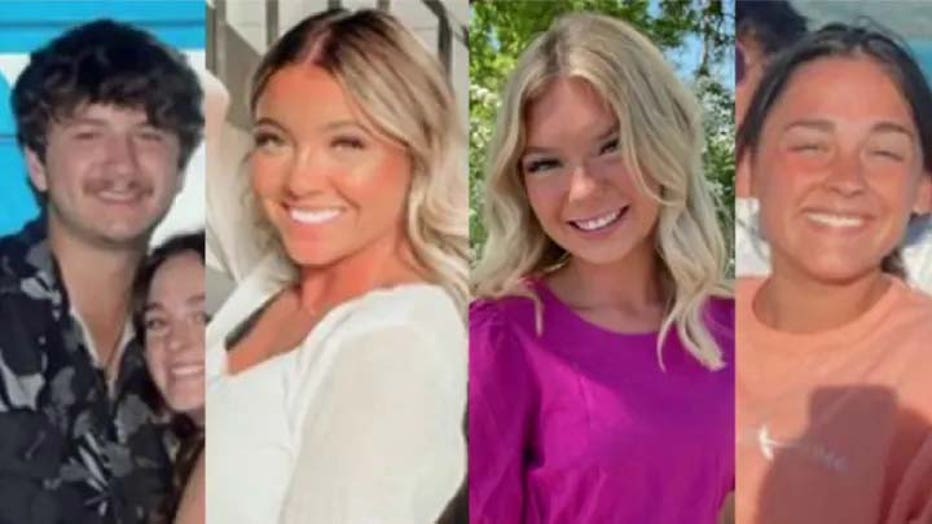 Ethan Chapin, Kayle Goncalves, Maddison Mogen and Xana Kernodle, who were stabbed to death Nov. 13. (Fox News)
The three young women lived in the home with two other housemates — including one who police say witnessed a masked man with "bushy eyebrows" flee at around 4 a.m. after the killings. Chapin was staying the night.
Kohberger, a Washington State University doctoral student, had been stalking the King Road home for weeks, according to a probable cause affidavit. 
His cellphone pinged near the house at least 12 times before the murders and once the morning after.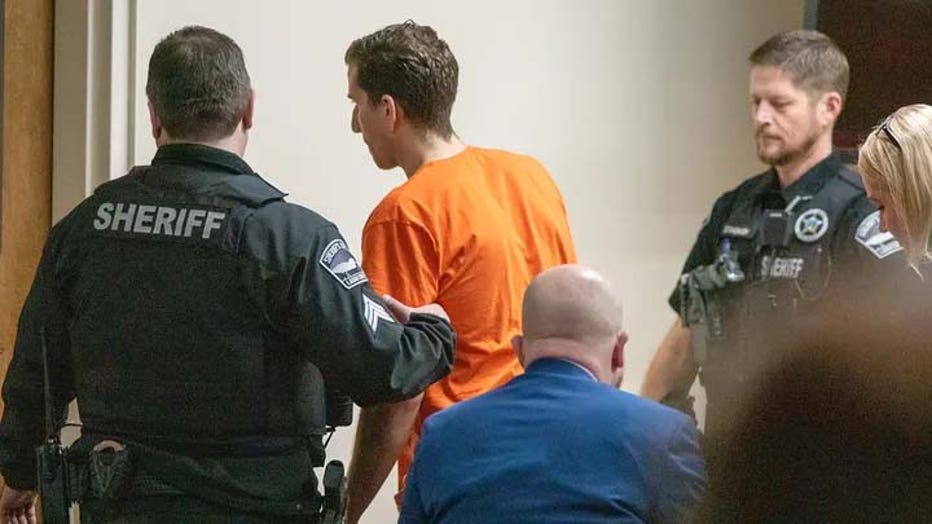 Accused murderer Bryan Kohberger is led out of Latah County District Court in Moscow, Idaho, on Thursday after a status hearing. Kohberger waived his right to a quick preliminary hearing and will appear in court again on June 26. (Kai Eiselein/Pool)
He lived in campus housing in Pullman, Washington, just eight miles from the King Road property.
It took investigators nearly seven weeks to identify and track down Kohberger at his parent's home in Albrightsville, Pennsylvania, where he was arrested Dec. 30.
The accused mass murderer left a Ka-Bar knife sheath next to Mogen's body, which had his DNA on the button snap, the affidavit says.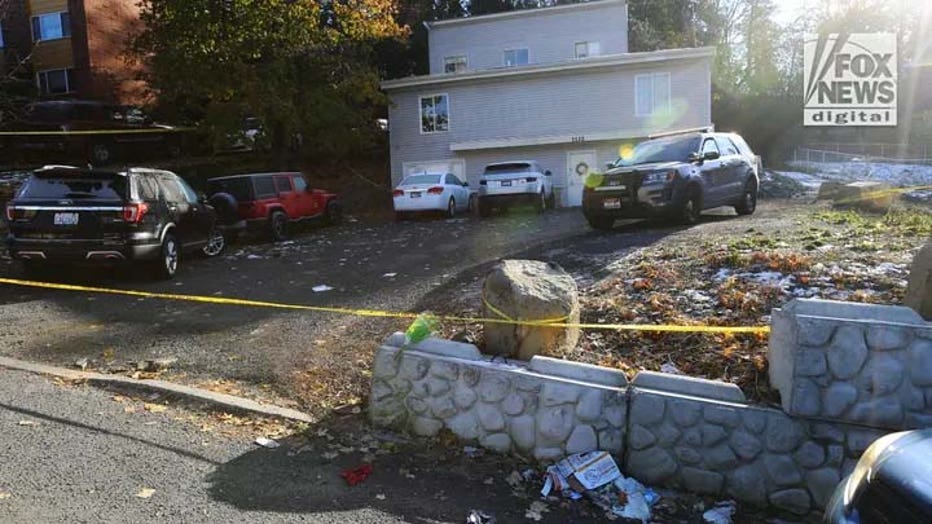 The King Road home where four University of Idaho students were murdered. (Derek Shook for Fox News Digital)
The court has issued a gag order barring attorneys and investigators from commenting on the case.
Several search warrants in Washington and Pennsylvania have also been sealed temporarily. More information is expected to emerge as the case plays out in court.
RELATED: Idaho murders: 5 key pieces of evidence against Bryan Kohberger
Get breaking news alerts in the FREE FOX 13 Seattle app. Download for Apple iOS or Android. And sign up for BREAKING NEWS emails delivered straight to your inbox.
Kohberger could face the death penalty if convicted on any of the murder charges.