Idaho murders: Bryan Kohberger's Pennsylvania warrants unsealed
A Pennsylvania court has unsealed the Dec. 30 search warrant in the Idaho student murders case, which led to the arrest of suspect Bryan Kohberger at his parents' house in the Pocono Mountains nearly seven weeks after the slayings.
Police seized a number of new items at the home, including medical-style gloves, a black sweatshirt, size 13 Nike sneakers, and they also took a buccal scrub. 
Kohberger, a 28-year-old criminology Ph.D. student at Washington State University during the attack, is accused of ambushing four University of Idaho students in the middle of the night on Nov. 13, 2022. The schools are about 7 miles apart.
The attack killed 21-year-olds Kaylee Goncalves and Madison Mogen, along with their 20-year-old housemate Xana Kernodle and her boyfriend, Ethan Chapin, also 20.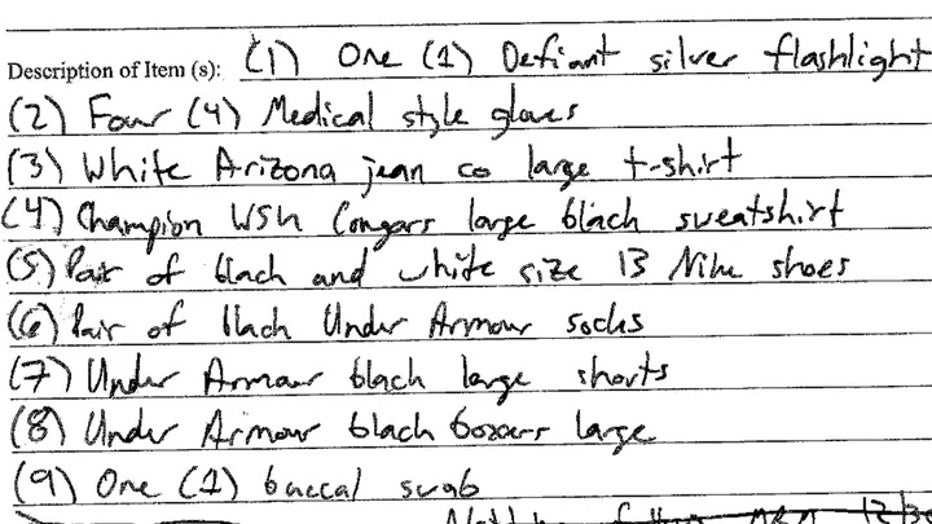 Excerpt from the warrant returns unsealed Tuesday. (Pennsylvania Courts)
According to court documents, police found a Ka-Bar knife sheath near Mogen's body and recovered a DNA sample from the snap.
RELATED: Idaho murders: Bryan Kohberger leaks a 'huge issue' with 'potential to compromise' prosecution, lawyer warns
That DNA was a familial match for another sample taken from the trash at the Kohberger family residence in Albrightsville, Pennsylvania. After tracking Kohberger across the country, police said the believed his vehicle, allegedly spotted at the crime scene the night of the slayings, was parked in a two-car garage on the west side of his parent's house.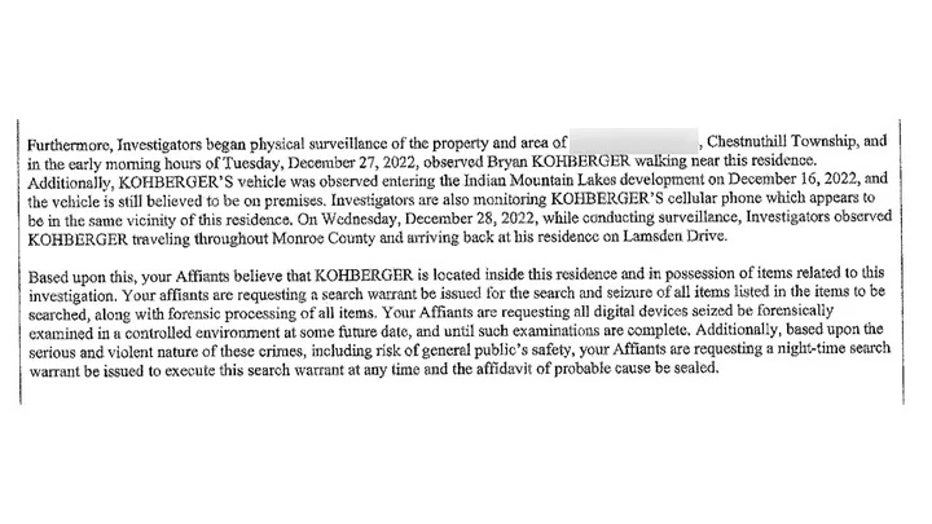 An excerpt from Bryan Kohberger's Pennsylvania warrant reveals how police observed his movements once he returned from Washington state. (Pennsylvania Courts)
Police say his vehicle arrived at his parents' house in Dec. 16, and investigators spotted him walking around outside on Dec. 27. He left his parents house on Dec. 28, and observed him traveling to various locations in Monroe County.
RELATED: Idaho murders: King Road home where Bryan Kohberger allegedly stabbed 4 boarded up, will be demolished
After a tactical raid at his parents' home on Dec. 30, police searched the house, an attached garage, a shed and his car. Other items they seized include a silver flashlight and several other articles of clothing.
While the warrant application specifically asks for permission to seize and search Kohberger's devices, the inventory of seized items doesn't mention any.
Kohberger is being held at the Latah County Jail in Moscow, Idaho, without bail.
He faces four counts of first-degree murder and a felony burglary charge.
RELATED: Idaho murder timeline: Affidavit reveals how 16 minutes depict shocking scene
He's due back in court on June 26 for a preliminary hearing, where his defense plans to challenge the evidence against him.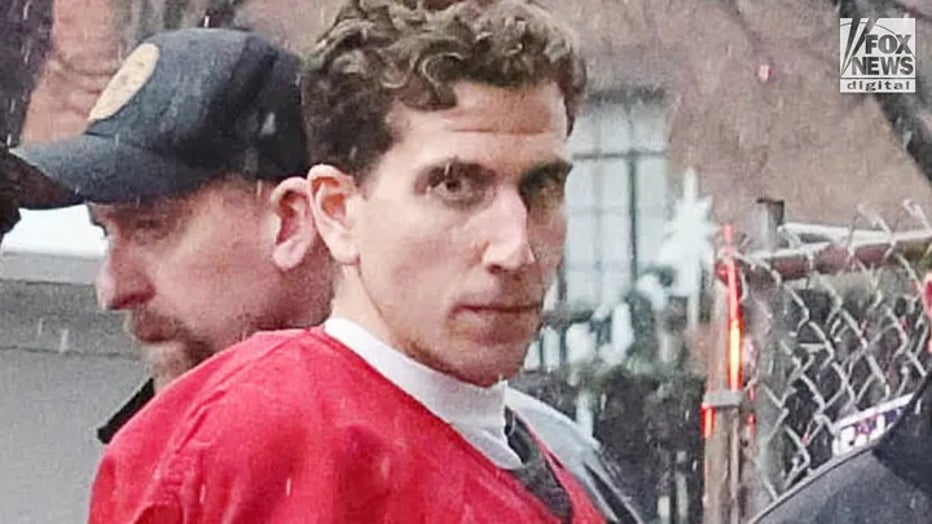 Bryan Christopher Kohberger is seen for the first time since his arrest Friday outside the Monroe County Courthouse in Stroudsburg, Pennsylvania. He is accused of the Moscow, Idaho, quadruple homicide. (Fox News Digital)
Authorities have not publicly established a motive for the attack but allege that Kohberger stalked the victims' house at least a dozen times before the slayings and returned once more to the scene hours later.