Gopher women's hockey wins WCHA Championship over Wisconsin, 3-1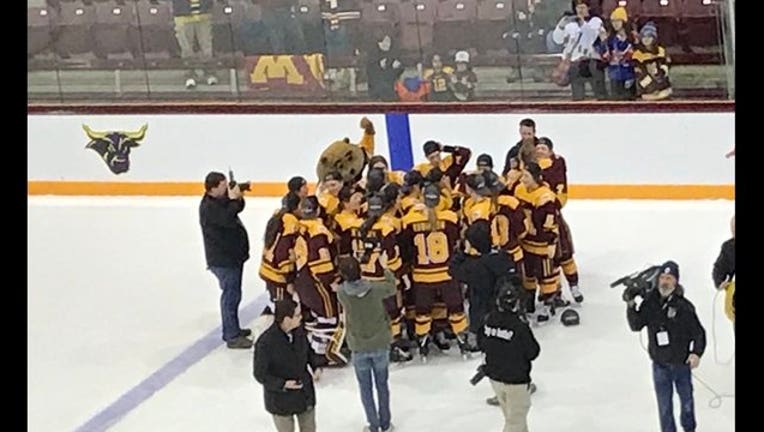 article
(KMSP) - The playoff bubble could've popped at any time this weekend, but when the pressure peaked the Gophers played some of their best hockey of the year.
Minnesota beat Wisconsin 3-1 on Sunday at Ridder Arena to win the WCHA tournament title for the first time since 2014, adding another trophy to their case and working toward a berth in the NCAA Tournament after an impressive weekend.
"Knowing they had to win this tournament to extend their season speaks volumes to who they are as people and the competitors that they are," Gophers Head Coach Brad Frost said. 
To get to this point, Minnesota first had to beat Ohio State and Wisconsin, two teams the Gophers had lost to a combined eight times during the regular season.
The Gophers beat the Buckeyes 2-0 on Saturday and a day later topped the Badgers in Sunday's championship game, a weekend series that players say sends a statement to rest of the NCAA Tournament field.
"I think it shows that we not only can compete with the best, but we are one of the best," Gophers forward Taylor Williamson said. "Just knowing how big this weekend was and that we were able to get the job done under pressure knowing that our season was on the line is absolutely huge."
New names are all over the roster this season, but don't call this a rebuilding year for the Gophers--they still intend to chase their goal of an eighth NCAA national title.
"It's frustrating that people labeled this as a rebuilding year, because it's not," Gophers goalie Sidney Peters said. "We're a good team and we want to be taken seriously ... I think we just showed that we can hang with anyone."
The Gophers will not have to wait long to face the Badgers again, either, playing in Madison against Wisconsin in the first round of the NCAA Tournament next weekend. 
The 2018 Women's Frozen Four will be at the Ridder Arena in Minneapolis on March 16 and March 18.