Glendale Municipal Airport prepares for hundreds of private planes to arrive for Super Bowl LVII
GLENDALE, Ariz. - The Glendale Municipal Airport is busy preparing to welcome hundreds of people as two high-profile events are making their way to the Valley – at the same time
For now, the airport may look quiet, but soon everyone will be arriving as it's located just two miles west of State Farm Stadium where Super Bowl LVII will be held on Feb. 12.
As the closest airport to State Farm Stadium, Glendale Airport Administrator Matthew Smith was excited to take off with a new challenge.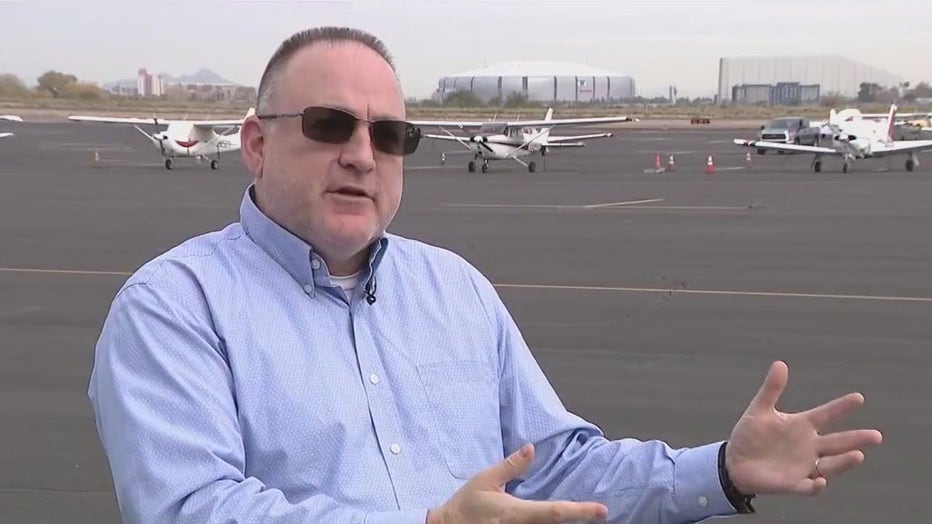 Glendale Airport Administrator Matthew Smith
"I just started working at the airport on October 31st, and so I showed up and then everybody said, 'Well, it's time for you to plan for the Super Bowl,' so it's quite a task. It's been actually a heck of a lot of fun," Smith said.
Since then, the planning has been non-stop to ensure everything is smooth sailing. That includes repainting the building, redesigning and rebuilding the taxiways to adhere to temporary flight restrictions that will happen on game day.
"About an hour before the game we are going to shut down the airspace, and it's not just Glendale, it's the whole Valley … then what will happen is that will kind of guarantee the safety of the people at the game and also give me a chance to turn to the TV on and watch the game and then about an hour after the game is over the flight restrictions will be lifted," Smith explained.
The airport is for general aviation, meaning they welcome private planes only, including VIPs and celebrities. In total, they can take up to 575 planes. So far, they have a few hundred reservations.
"I think what's happening is people are kind of waiting to see who the teams are and then once we know who the teams are, then we are going to start to see the reservations just explode, and it's going to be wild," he said.
Not only is it a big boost for the airport, but the entire city of Glendale.
"Somebody is going to come here and spend a fair amount of money to land here and get whisked off to the game, but then they are going to spend an untold amount of money further through the economy," Smith said.
Planes housed at the airport will be temporarily relocated to allow for the newcomers.
During the same weekend, The WM Phoenix Open will be in Scottsdale, which brings thousands of visitors to the Valley.
Check out more of FOX 10's Super Bowl LVII coverage here.
Related reports: