Friendships can add years to life but also influence bad habits, study finds
A new study showed how having friends can add years to your life, but they could also influence some bad habits. 
The study was published recently Epidemiology and Psychiatric Sciences.
Researchers found that strong friendships can improve a person's overall well-being such as reducing the risk of mortality, increasing physical activity and lowering the risk of depression. 
However, friendships were also associated with an increased likelihood of smoking and heavy drinking.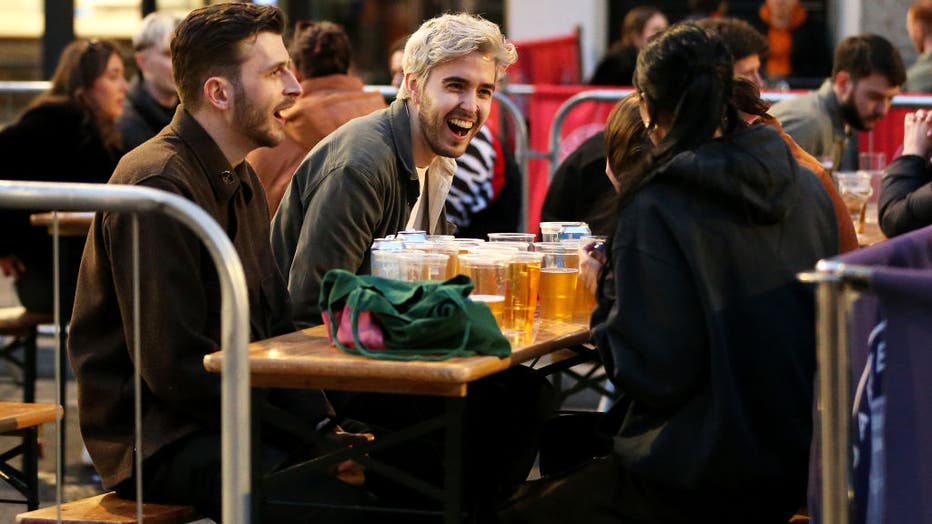 A group of friends are seen drinking and laughing in outdoor seating venues in Manchester's Northern Quarter on April 16, 2021 in Manchester, England. (Photo by Charlotte Tattersall/Getty Images)
"Our findings indicate that stronger friendships can have a dual impact on health and well-being," researchers said. "While stronger friendships appear to mainly promote a range of health and well-being outcomes, stronger friendships might also promote negative outcomes."
RELATED: In death, Brooklyn woman raises money to erase millions in medical debts
To conduct the study, researchers studied nearly 13,000 people over the age of 50. They looked to see how their friendships with others strengthened between 2006 and 2012 with a "friendship score" that was assessed from the following domains: friendship network size, friendship network contact frequency and friendship network quality.
They then looked at 35 different health/well-being outcomes and how they linked to the friendship score. 
The outcomes included a number of chronic conditions; diabetes, hypertension, stroke, cancer, lung disease, arthritis, overweight/obesity, physical functioning limitations, cognitive impairment, chronic pain and self-rated health. 
Results found that having friends reduced all-around mortality by 24% and had a 19% reduced the risk of stroke. But results also showed a 43% increased likelihood of smoking and a 9% increased likelihood of physical activity frequency.  
RELATED: Life cereal, actress Julie Bowen launch parenting hotline to share, receive advice
Researchers said while friendships can be a source of emotional and social support, if they occur in situations where smoking and drinking occur, it can create both beneficial and harmful behaviors. 
However, they found having friends is more beneficial than harmful. 
Knowing this, researchers are calling on more countries to enact policies that foster stronger friendships and prevent loneliness. 
This story was reported from Los Angeles.