Fridley antique shop cleaning up after water main break
FRIDLEY (FOX 9) - The owners of an LGBTQ- friendly Fridley antique store are at rock bottom this weekend after flooding destroyed the bulk of their merchandise. Wild Things Unlimited is a vintage collection of antique items sold by 49 curated vendors.
"This is actually our one-year anniversary," owner David Wenzel told FOX 9. "What once was a thriving, glorious warehouse of antiques and vintage goodies is now empty muddy space."
Owners Joshua Larson and David Wenzel have spent the last 36 hours in non-stop disaster recovery mode; sifting through muddy water to salvage what they can, with an army of volunteers rallying around them.
We have a small, limited window before the damage sets in and mold spreads, and you get beyond water damage," Wenzel said.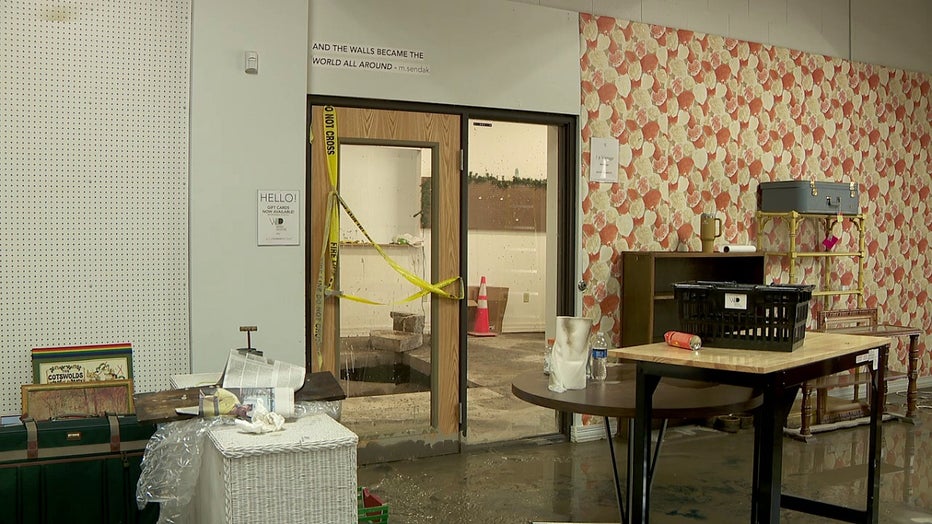 The cleanup was continuing on Sunday after the main break at Wild Things Unlimited. (FOX 9)
On Friday, June 28, Larson and Wenzel woke up to find out dirty brown water was pouring out of their business from every crack and crevice. The water was rising out of the ground, while city workers tried to shut off the water main supply. 
"It was incredible the amount of water that was escaping the building," Larson said. "And we actually could still see it coming up from the floor… every square inch of the premise was covered in at least a quarter inch of water and mud."
Now work has started to try to figure out what caused the flood. But after workers ripped out a section of flooring, part of the building had to be quarantined off by a structural engineer, who said its structural integrity may be in question. 
If you'd like to help Wild Things Unlimited and the nearly 50 small business owners it houses, click here.