Frequently taking sleeping pills could increase risk of dementia, study says
Researchers found a correlation between consistent and frequent sleep medication use and higher rates of dementia, specifically in white adults. 
A recent study published in the Journal of Alzheimer's Disease observed over 3,000 adults whose ages averaged 74 years. Fifty-eight percent were white and 42% were Black.  
All of the participants were living outside of nursing homes and were not diagnosed with dementia prior to this study. 
Race played a factor
Researchers at the University of California San Francisco found that 7.7% of white adults reported using sleep medications "often" or "almost always" and only 2.6% of Black adults said the same. 
RELATED: Study links nightmares in middle-aged people to higher risk of dementia 
Through the duration of this study, 20% of both white and Black participants ended up developing dementia. 
White adults who frequently took sleep medication had a 79% higher chance of developing dementia compared to those who rarely took any sleep aids. 
But Black adults who frequently took sleep medications had a similar likelihood of developing dementia as those who rarely took sleep aids. 
The 7.7% of white adults who frequently took sleep medications were three times as likely to take them "often," meaning five to 15 times a month, or "almost always," 16 times a month to daily, compared to the 2.6% of Black adults who said they frequently took sleep medications.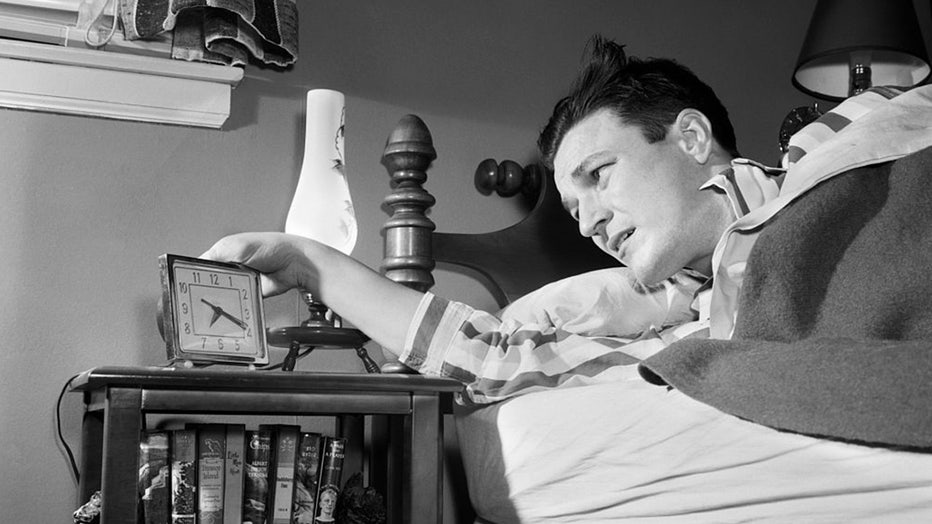 FILE - Man waking up and checking his clock to see what time it is. (Debrocke/ClassicStock/Getty Images)
"Differences may be attributed to socioeconomic status," lead author Yue Leng, Ph.D., of the UCSF Department of Psychiatry and Behavioral Sciences and UCSF Weill Institute for Neurosciences, said in a January news release. "Black participants who have access to sleep medications might be a select group with high socioeconomic status and, thus, greater cognitive reserve, making them less susceptible to dementia. It's also possible that some sleep medications were associated with a higher risk of dementia than others." 
The study also notes that white participants were almost twice as likely to use benzodiazepines, like Halcion, Dalmane and Restoril, which are medications prescribed for chronic insomnia. 
They were also 10 times as likely to take trazodone, an antidepressant. Some of these antidepressants are known by the trade names of Desyrel and Oleptro. 
White participants were also more than seven times as likely to take "Z-drugs," such as Ambien. 
RELATED: Study suggests walking this range of steps per day can reduce the risk of dementia
Study limitations and future research
One of the limitations to this study included the age range. Participants were between the ages of 70-79, which limits the ability to generalize results to a wider population, thus potentially seeing results of dementia or Alzheimer's earlier in life. 
The types of medications used as sleep aids were also not specified for each participant.  
Despite these limitations, Leng believes patients who have a hard time sleeping and are considering taking a sleeping aid should proceed with caution. 
"The first step is to determine what kind of sleep issues patients are dealing with. A sleep test may be required if sleep apnea is a possibility," she said. "If insomnia is diagnosed, cognitive behavioral therapy for insomnia (CBT-i) is the first-line treatment. If medication is to be used, melatonin might be a safer option, but we need more evidence to understand its long-term impact on health." 
This story was reported from Los Angeles.